3 Millionaire Internet Marketers You can Learn a lot from
---
 It's Wise to Know Their Recipe for Success!
Written by Garin, Contributing Blogger
One of my foremost life goals is to become a millionaire.  To achieve this goal I make it an active practice in my life to study millionaires, the businesses they run, and how they achieve the millions they make.
The study of millionaires is very much a science.  Like a chemical reaction, the product of millions of dollars can be duplicated if the right elements are present.
In this article I will discuss five of my favorite millionaires, how they have leveraged the Internet to make their fortunes, and the awesome free training they have developed in the process.
– Mark Ling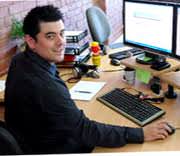 Mark Ling is perhaps the most successful affiliate marketer in the world, and he is the entrepreneur behind several products and the affiliate marketing portal affilorama.com.
I recommend checking out the expert interviews section of affilorama for some excellent interviews with internet millionaires.
One of the main reasons for Mark's success is the fact that he constantly tries different niches out, ranging from online dating, career counseling, to hairdressing techniques.
Mark's team recently published the free report that I recommend checking out called: The 5 Step Method for Making $10,000 Per Month Online and the blog post it was published on is currently sitting at 2447 comments.  Another awesome report he produced is How to Make Piles of Cash by Giving Away Free Content.
Mark also financed the creation of the #1 free SEO tool on CNET Traffic Travis, which is an awesome way to assess the competition for keywords, and much more.
– Eben Pagan
Eben Pagan is the entrepreneur behind the hugely successful dating advice information business Double your Dating.
I blogged about Eben before, sharing his marketing insights, and my notes on them.
Get Altitude is another one of Eben's businesses and for free videos about how to grow your business to ten million and beyond check out Eben's Altitude blog.
Eben just launched a new training program called Self Made Wealth which claims to help you finally MASTER your money & wealth.  With a $1997 price tag I should hope that it lives up to this expectation.


– Frank Kern
Frank Kern is a really cool marketer and surfer from California who has made millions online in a variety of niches, including the Internet Marketing niche.
Frank Kern has actually retired from Internet Marketing, but luckily there is still a bunch of his content around for you to enjoy.
I have read every post and watched every video on Frank Kern's Mass Control blog because he is really good at providing valuable information, and he has a cool personality so his content is fun to learn.
Some of my favorite posts from Mass Control arehow to make lots of money forever and his results in advance method.
His blog post about the best guru ever is also exceptional.
Feedback
What do you think about the three fine fellows above?  Who is your favorite millionaire marketer?  Let us know in the comments below!
By Garin Kilpatrick, Contributing Blogger
From http://garinkilpatrick.com, Content Partner
In association with:
The ARB Team
Arbitrage Magazine
Business News with BITE
Liked this post? Why not buy the ARB team a beer? Just click an ad or donate below (thank you!)