Medical Coding Provides Much-Needed Careers
---
The medical coding industry is a great place for college grads to start their careers.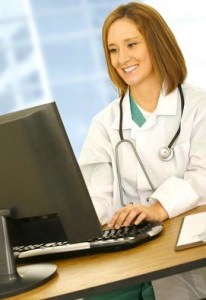 In spite of the slow job market affecting most college students, there are recent graduates who have been lucky enough to obtain jobs. Many have found jobs in healthcare as medical coding specialists, radiation technicians, or registered nurses.
It's no secret that the baby boomer generation is growing older. As these individuals age the need for healthcare professionals and services will only grow. However, becoming a nurse or physician isn't for everyone. Some of us are squeamish at the site of blood, and others can't stand the thought of sticking a needle into another person.
If you are looking for a healthcare related position, but don't want to spend the better half of your twenties in medical school, consider a career in medical coding. Better yet, consider starting your own medical coding business.
Medical coding is the way in which physicians and insurance agencies communicate with one another. It allows claims to be processed more quickly, and allows people to get the care they need at the price they can afford in a relatively short time. As the demand of hospital services rises due to the aging population, the need for medical coders will rise too.
So how do you start a medical coding business? It may not be as easy as you would think.
Get the Proper Education
[pullquote]As the demand of hospital services rises… the need for medical coders will rise too.[/pullquote]Not only would a few classes in business be beneficial, but a degree in Medical coding is a must if you wish to operate your own medical coding business. It's pretty useful considering all the intricacies of medical coding, and can usually be achieved in a specialized classroom setting in as little as one year.
Before you register with any online college or traditional brick-and-mortar university, make sure the program is accredited. Without accreditation the education will be worthless and you will be unable to obtain certification, which is the first step in starting your own medical coding business.
Freelance or Incorporate?
Once you obtain your degree in medical coding, you have a few professional choices. You can either decide to work for someone else and average a median salary of $43,000, or you may go into business for yourself either as a freelance medical coder or by starting your own company. Should your business be successful you could double or triple your salary.
Freelance
Freelance medical coding offers freedom from the office setting. You can work from anywhere as long as you have a computer and a Wi-Fi connection. However, the work isn't as constant as the work obtained through company contracts.
With freelance you can either use online forums to obtain work from employers, or you can approach local clinics and medical facilities to see if they have any work that they would like to outsource.


Incorporating
To start a medical coding business on your own, you will need to incorporate. You need to create a business plan to get a loan for equipment and basic overhead, and to hire employees. To avoid some of these high upfront costs, you may want to consider simply starting off freelance, and incorporating later.
Medical billing and coding will be a field that remains in high demand throughout the upcoming years, and is a great business option for young entrepreneurs. Although education and certification is required, starting a medical coding and billing business requires relatively low start up and affords many a lax schedule. So if you are looking for a way to help others, but want to avoid a strict office setting, consider starting a business in medical billing and coding.
ARB Team
Arbitrage Magazine
Business News with BITE.
Liked this post? Why not buy the ARB team a beer? Just click an ad or donate below (thank you!)
Liked this article? Hated it? Comment below and share your opinions with other ARB readers!