Protect Yourself from Flooding Come Hell or High Water
---
Recent floods in Calgary and Toronto are likely to impact insurance rates across the county over the next year
Melissa Goertzen, Staff Writer
Calgary and Toronto have suffered unprecedented damage to homes and infrastructure. In Calgary, the total economic damage is 20 times higher than the last major flood event in 2005. The insurance rating service A.M. Best estimates that overall claims will fall between $1 billion to $3.75 billion. In Toronto, Property Claim Services Canada has categorized the event as a catastrophe, meaning that claims are likely to exceed $25 million.
"Insurers spread risk out among policy owners, which means Canadians across the country should expect to feel some of the impact after the worst flooding in decades is tabulated," says the International Bureau of Canada.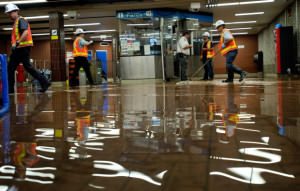 This does not mean that all homeowners in affected areas will receive compensation for losses. In fact, many are reporting that claims have been rejected by insurance companies because coverage for sewer backups is optional in most homeowner policies. Coverage for overland flooding – damage caused by water that comes through doors and windows — is not available in Canada.
Calgarian Tom Carter spoke with reporter John Cotter last week after discovering that his claim was rejected by AMA Insurance. "It is disappointing. I was sick to my stomach. You think you are covered and then you find out that you are not," says Carter.
Water damage is now a leading cause of property damage in Canada, and there are a number of steps homeowners can take to reduce damage in the event of a flood. These include simple tasks like cleaning eavestroughs, adding extensions to downspouts, sealing cracks in foundation walls, and clearing debris from sewer grates.
The Institute for Catastrophic Loss Reduction reported that some insurers now offer reductions in the cost of sewer backup coverage to homeowners who install backflow valves. These devices prevent backed up sewage water from flowing into basement plumbing.
At the end of the day, the most important thing homeowners can do to protect themselves is understand what types of flood damages insurance companies do not cover. Then, create a home maintenance plan based around coverage gaps.
Melissa Goertzen is a freelance research consultant and writer based in Halifax, Nova Scotia.  In October 2012, she graduated from the Master of Library and Information Studies program at Dalhousie University.  To learn more, please visit her website at melissagoertzen.wordpress.
References
Photo courtesy to Calgary Stampede Blog, Ocanada.com
The Globe and Mail –  Self-defence in an age of flooding  Carrick, R. (2013, July 17)
MSN Money – Calgarians upset over denied insurance claims Cotter, J. (2013, July 2)
MSN Money – The Alberta flooding case for business interruption insurance  Powers, G. (2013, July 12)
thespec.com – Toronto storm damage could cost millions, insurers say  (2013, July 9)