Employment
---
The Arbitrage Magazine WANTS YOU!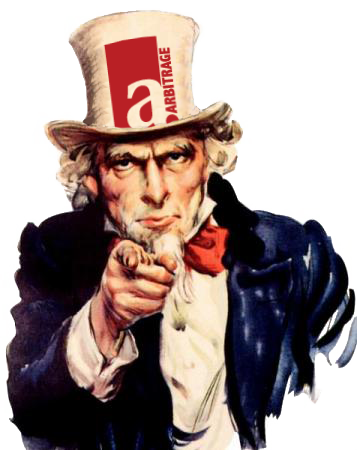 The Arbitrage Magazine is the world's largest, student-driven business magazine (yeah, seriously). We exist to examine current business trends in a way that matters to student minds, by having interesting content that's written and designed by students, for students.
More simply, we write about business without boring people. We're Business News with BITE.
Download and/or read our magazine.
The Arbitrage Magazine is maturing in content, form, and visual appeal with each issue. As the Arbitrage Magazine's readership continues to grow, it'll need fresh, talented, reliable, and committed individuals to keep it running and evolving. This is your opportunity to join a growing and international team that works together to build something truly special (in addition to building your r?®sum?® and/or commercial portfolio), so do apply if you think you can contribute something special.
In fact, learn what working with the "ARB" is like from past team
members:?http://arbitragemagazine.com/testimonials-arbers/
Please read below for a list of all ARB positions (note that not all positions are available, but we do keep applications stored for when they are).
Please forward your r?®sum?® & cover letter to:
Nicholas Wagner
Director, Human Resources
Arbitrage Magazine
HR@ArbitrageMagazine.com
Note:
1) If you apply to the Arbitrage Magazine Journalism or Design departments, you must include a sample/portfolio of your work as well.
2) Presently, the Arbitrage Magazine is structured as a not-for-profit cooperative. All positions operate on a part-time, volunteer basis. Accordingly, only serious applicants need apply.
3) In your application, kindly mention where you located this job posting.
4) We receive quite a few r?®sum?®s per week. We do make an effort to reply to all applications, but we are (very) SELECTIVE about who we invite to an interview. Please be sure to stand out by taking care to send us a professional and well written cover letter and r?®sum?® (and portfolio where applicable).
———————-
WRITING STAFF
–Junior Staff Writers
–Tech Staff Writer
–Chief Interviewer
–Online Editor
-Chief Online Editor
–Section Editors
–Managing Editor
–Editor-in-Chief
DESIGN STAFF
–Junior Graphic Designers
–Assistant Art Directors
–Art Director
–Junior Photographer
–Photography Director
COMMUNICATIONS STAFF
–Communications Representative
–Communications Director
–Assistant Communications Director
-Promotions and Media Analyst
MARKETING STAFF
–Marketing Director
–Marketing Assistant Director
-Event Planner
–Marketers
MULTIMEDIA STAFF
(This dept. is for the production of future videos for the ARB TV YouTube Channel. (Must live within Toronto, Canada))
-Producers
-Hosts/VJ's
-Comedy/Business Writers
-Camera Operators
-Video Editors
-Lighting Technician
SALES STAFF
-Sales Director
-Assistant Director ' Sales
–Sales Representative (Must live within the General Toronto Area, Canada)
PROFESSIONAL STAFF
–Business Development Manager
–Lawyer
–Website Administrators
HR
–HR Coordinator
-Payroll administrator
–Assistant HR Director
–HR Director
If you feel that you would be a great fit for any of the positions above, please send a cover letter and your r?®sum?® (and a sample of your work for writers and designers) to the ARB HR Dept. at: HR@ArbitrageMagazine.com
If you want more information about any of the positions above, please contact the ARB HR Dept. at: HR@ArbitrageMagazine.com
We look forward to having you join our growing team!
ARB Team