The End of books?
---
Print book sales continue to decline in face of their digital counterparts
Written by Sarah Taylor, Staff Writer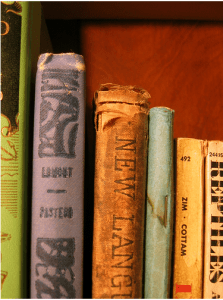 Printed books may soon be a thing of the past. Digital handheld libraries have replaced the tradition of curling up with a good book. Children hear their bedtime stories from an iPad. E-books are now outselling their print versions two to one, and printed book sales have declined a massive 34%. Apple's iPad sold 47 million units in 2011 alone and from mid-November on, Amazon was selling more than a million Kindles a week. Those are staggering numbers.
Since their debut in 2007, e-readers and tablets have been instant hit. Upon release, Amazon's Kindle sold out in five and a half hours. Completely unprepared for its popularity, the Kindle remained out of stock for months until further orders could be fulfilled. Soon to follow was the Kindle 2, which introduced the text to speech feature and a slimmer design. Available in 100 countries by 2009, the Kindle's sales have increased steadily, leading to an uncertain future for the traditional book industry.
The new wave of literary technology has hit book stores hard. In December 2011 book giant Barnes & Noble reported a $6.6 million loss due to a major decline in book sales. July saw Borders books liquidating their stock and closing after 40 years of business. E-readers and tablets have caused a major shift in the way we are consuming books and print media.
Libraries have also taken a hit. Funding cuts combined with a decline in print book demand have seen libraries across the globe shutting their doors. Technology seems to have overtaken the need for public book sources, and librarians as well. In 2011, Vancouver's library budget was cut by $1.6 million, while Nova Scotia saw the last of their school librarians laid off. British Columbia is following suit, laying off nearing all their school librarians. According to the Canadian Library Association "…given today's technology, the teacher-librarian no longer has a role to play in the school."
Canadian author Margaret Atwood has launched a "save the libraries" campaign, inspired by the Toronto mayor's suggestion of closing numerous library branches. Her online petition has gathered thousands of signatures, but the future of Toronto's busy library system is unknown. Privatization of libraries is also a viable option, as many city and municipal councils no longer recognize the importance of libraries in the community.
[pullquote]Economists are now predicting e-books will constitute 75% of book sales by 2025[/pullquote]Although e-books are more expensive, higher prices are not deterring customers. The print version can often be purchased for less than its e-reader counterpart, but tolerance for the high cost digital books may be due to the falling prices of the e-readers themselves. When Amazon first introduced the Kindle in 2007, the price was a hefty $399. Fast forward four years, and the latest version, the Kindle Fire, retails at $109. The various e-readers now on the market have pushed prices down, and consumers are reaping the benefits.
The convenience factor may be winning the book war. E-readers are user-friendly, compact and light (try lugging 80 books on the subway). E-readers hold magazines, newspapers, books and weigh less than a bottle of ketchup. They deliver your selection in seconds, and preserve the work.
You can read, buy and download day or night, then post comments and quotes through social media. E-readers allow even the most controversial works to be downloaded and shared, defying censorship. Many praise the eco-friendliness of e-readers, although this is an active source of debate.
For self-published authors, releasing an e-book can be a quick and easy road to success. Just as YouTube and MySpace have launched the music careers of thousands, e-books are enabling authors to reach a wide audience for a small cost. Amazon's CreateSpace website allows authors to publish and distribute their work digitally, and gain royalties from downloads. It even links the book to amazon.com for easy downloading and purchase, and allows customization of the book appearance, print and size. For new authors, these opportunities are game changing.
For consumers, e-readers and tablets may actually promote reading. In a recent American study, 53% of e-reader users claim they read more now than prior to owning one. The aspect of social reading, i.e. sharing quotes and thoughts via social media have reignited a passion for literature and non-fiction. Dictionary tools allow quick understanding, and images and animation add entertainment value.
Schools too may soon see an increase in digital books and devices. The Prime Minister of India recently announced e-readers will replace all paper-backs in schools. Countries in Europe have abandoned traditional text books, using tablets and iphones as the primary learning tools. In Canada, students with learning disabilities and dyslexia have used e-readers as an excellent, stigma-free learning tool.
The ability to personalize e-readers and tablets attracts younger readers, and e-books can be read aloud for the vision impaired. There are even plans for a Japanese designed Braille e-reader, using state of the art technology. For those with mobility issues, trips to the library or book store are no longer necessary. E-readers offer accessibility to reading that print books simply can't compete with.
To stay competitive, book stores are embracing the e-book trend. Chapters offer the Kobo e-reader with a full range of accessories, and the successful Barnes & Noble Nook Tablet has managed to off-set low print sales. A good business knows the key to long term success is adapting to changing times, and it seems that e-readers are here to stay. However, book chains offering e-readers may be promoting the very item that will seal their fate.
Economists are now predicting e-books will constitute 75% of book sales by 2025. Books as we know them may soon be a thing of the past. There is no arguing the convenience of digital books, but print literature is an integral part of our history. E-book technology is quicker, cheaper and easier, are these advantages worth losing our literary heritage?
ARB Team
Arbitrage Magazine
Business News with BITE.
Liked this post? Why not buy the ARB team a beer? Just click an ad or donate below (thank you!)
Liked this article? Hated it? Comment below and share your opinions with other ARB readers!