Jetpacks Become Popular in Commercial Use
---
Jetlev allows people to enjoy the thrill of hovering, but could pose problems for the fish
By: Chelsi Robichaud, Staff Writer
Raymond Li, inventor of Jetlev, the water-propelled jetpack, has come a long way since the debut of his product. His new invention challenges the norm of fuel-based technology.
The Jetlev has a backrest strapped to the user, and is attached to a small boat. Handles are placed near shoulder-level for ease of control. The Jetpack is completely elevated by water propulsion.
The device costs close to 70 thousand however, this could be considered inexpensive compared to its former price of $99,500. Currently it can be rented for use in Florida, Hawaii and Mexico.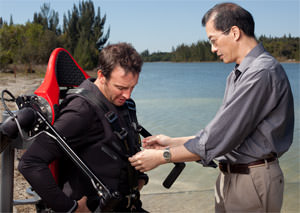 Li's invention gives certain thrill-seekers and technology enthusiasts the chance to live out their dreams. There are many people who would pay a high price to have the opportunity to fly and rightly so, according to Li, who asks: "Who wouldn't want to fly like James Bond?"
But not everyone thinks this is the best. The Jetlev may be deadly in regards to the fish coming in contact with the equipment. [pullquote]"When you look at it, it looks fairly exciting," the chairman of natural resources, William Aila, said. "But you got to look beyond the excitement."[/pullquote]
Chelsi Robichaud is a student at Carleton University in Ottawa. In her free time, she enjoys writing manuscripts. She hopes to become a professor of English or philosophy.
Sources
Photo courtesy to palscience.com & entrepreuneur.com
Water-propelled Jetlev-flyer personal jetpack set for release