Meet The Latest Man Behind Apple
---
Apple's iconic brand will continue to shine under his leadership 
Written by Oxana Tsirelman, Staff Writer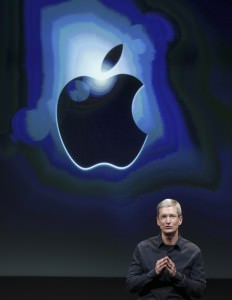 Part of this successful multimillion dollar enterprise can be attributed to individuals such as Tim Cook. That is not surprising considering the fact that he is the CEO and serves on Apple's board of directors. He climbed the ladder of success with nothing but persistence and perseverance. After all, he emphasizes that "the goals include a number of turnovers to stay under, a number of hits to be above and shots for and against. Sometimes you think you play a good or a bad game, but these goals can be a better judge of the game."
Tim was also Apple's Chief Operating Officer and was responsible for Apple's global sales and operations, which included Apple's supply chain management, sales activities, as well as service and support in all markets and countries. However, Tim Cook's good fortune doesn't end there!  He was also the head of Apple's Macintosh division and had a key role in the development of the strategic reseller and supplier relationships.
[pullquote]Cook was considered a leader, and he was a really, really good student[/pullquote]Before he joined Apple, Tim was the chief operating officer of the Reseller Division at Intelligent Electronics. He then served as the VP of Corporate Materials for Compaq and managed the company's entire product inventory.
Moreover, Cook worked with IBM for 12 years as director of North American Fulfillment. As director, he led the manufacturing and distributions functions for IBM's Personal Computer Company in North and Latin America.
He has even been compared to the late Steve Jobs. After all, according to Alex Altman, "the man stepping into Jobs' New Balance Sneakers is viewed as a brainy and capable leader who has long helped steer Apple's ship behind the scenes." Even twitchy analysts are confident that Apple will "be in good hands" under the direction of Tim Cook.
As for his educational background, Tim earned an MBA from Duke University and a Bachelor of Science in Industrial Engineering from Auburn University. It's hardly a surprise that Apple has been nothing short of a success under the leadership of such professionally irresistible individuals. Let's not forget that growing and nurturing a multinational corporation is no easy task, but Tim and his predecessors pulled it off.


Tim Cook possesses the passion, courage of conviction and strong sense of self that makes him a legendary force in the business world. He is also notorious for being a workaholic and often fires off emails in the wee hours of the morning, as cited by Alex Altman.
"Cook was considered a leader, and he was a really, really good student — well-liked by his peers, always prepared, tough but fair. We would have predicted great things for him, although it would have been difficult to predict he would head one of the world's most iconic brands" cites Blair Sheppard, Dean of Duke University.
ARB Team
Arbitrage Magazine
Business News with BITE.
Liked this post? Why not buy the ARB team a beer? Just click an ad or donate below (thank you!)
Liked this article? Hated it? Comment below and share your opinions with other ARB readers!