Online Editors Wanted
---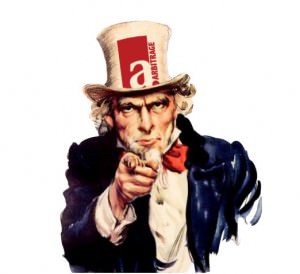 The Arbitrage Magazine is North America's largest, student-driven business magazine. We exist to examine current business trends in a way that matters to student minds, by having interesting content that's written and designed by students, for students.
More simply, we write about business without boring people. We're Business News with BITE.
The Arbitrage is a new, online (and soon print) magazine that is maturing in content, form and visual appeal with each issue.
Our website is: http://www.arbitragemagazine.com
You can download or read our magazine here: http://www.arbitragemagazine.com/category/magazine/
As the Arbitrage's readership grows nationwide (and hopefully globally), it will need fresh, talented, reliable and committed individuals to keep it running and evolving. So if you're interested joining a team that will work together to build something truly special (in addition to building your commercial portfolio), this may just be the opportunity for you.
Please read below for more details about the specific job ad!
Please forward your resume & cover letter to:
Rabeea Wajeeha
Director, Human Resources
Arbitrage Magazine
HR@ArbitrageMagazine.com
Note:
1) If you apply to the Arbitrage Journalism or Design departments, you must include a sample/portfolio of your work as well.
2) This is a part-time, volunteer position that will become part-time paid upon the publication turning a profit. Accordingly, only serious applicants need apply.
Start Date: Immediately
Job Title: Online Editor
Department: Journalism
Reports to: Editor-In-Chief
JOB DESCRIPTION
The Arbitrage team is looking for individuals to fill out its online editing staff. Online editing staff will help oversee and evaluate all submitted material prior to publication. The online editing staff helps to proofread all content, verify facts and, if necessary, clarifies information. The online editing staff may rewrite headlines, captions or entire sections of copy; change layouts; and on occasion, select graphics and crop images. Each online editor will assist in the publishing of content online.
In all, a position as an online editor among Arbitrage Magazine editing staff will entail working closely with the various Arbitrage divisions to bring together all content related elements needed for a successful web (and soon print) publication. All work will be done virtually, with relatively few physical meetings carried out over the course of the year.
*This is a part-time, volunteer position that will become part-time paid upon the publication turning a profit. Accordingly, only serious applicants need apply.
PRIMARY RESPONSIBILITIES
· Contribute one sectional article or feature for every issue of the ARB (i.e. 4 contributions per year).
· Edit 2-5 articles per month for spelling, punctuation, grammar, appropriate lengths, improving clarity and style, while ensuring content is accurate.
· Provide writers with feedback about their work, as well as rate their work for pay rating.
· Publish 1-5 articles online weekly, meeting the publishing calendar deadlines.
· Answer questions from the writing staff about form and content of the writing contributions
· Provide the CEO (and occasionally the Editor-In-Chief) with monthly status updates where needed.
· Assist the Editor-In-Chief and CEO with ongoing strategic tasks.
· Contribute 3 to 7 hours per week
REQUIRED SKILLS & TRAITS
· Good judgment, creativity, self-motivation and curiosity
· Attention to detail, highly organized and can meet deadlines
· Excellent writing and editing skills
· Must be able to work independently and manage a large team
· Must have strong computer skills and ability to quickly learn online collaboration applications.
· Shows initiative to discover new ways to improve the status quo
ARB Team
Arbitrage Magazine
Business News with BITE.
Liked this post? Why not buy the ARB team a beer? Just click an ad or donate below (thank you!)
Liked this article? Hated it? Comment below and share your opinions with other ARB readers!