Staff Writer Wanted
---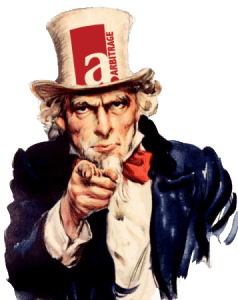 RAW. REAL. ROARING.
At the Arbitrage Magazine, we're always looking for student writers who have something to say. We actively recruit, mentor, and develop writers to fulfill their potential as voices for our generation.
Get published. Get mentored. Get better. Become a writer today.
–Download and/or read our magazine here: http://www.arbitragemagazine.com/category/magazine/
–Learn what working with the "ARB" is really like from past team members: http://www.arbitragemagazine.com/testimonials-arbers/
TO APPLY: Give us 250 words on what you're passionate about and why you'd like to write for us (think of it as a more personal cover letter). Attach THREE SAMPLES of your best pieces of writing, published or unpublished, to: HR@ArbitrageMagazine.com
If we like you, you'll hear from us!
David Whelan
Director, Human Resources
Arbitrage Magazine
(For the boring details about this position, please feel free to read below!)
Note:
1)      Presently, the Arbitrage Magazine is structured as a not-for-profit cooperative. All positions operate on a part-time, volunteer basis. Accordingly, only serious applicants need apply.
2)      In your application, kindly mention where you located this job posting.
3)      We receive quite a few résumés per week. We do make an effort to reply to all applications, but we are (very) selective about who we invite to an interview. Please be sure to stand out by taking care to send us a professional and well written cover letter and résumé (and three pieces of your writing).
Job Title: Staff Writer
Department: Journalism
Reports to: Section Editors and Editor-In-Chief
Start date: Immediately
End date: Open
Compensation: volunteer, freelance
Hours: 5-10 hours per month depending on projects assigned their due dates
SUMMARY
The Arbitrage Magazine is the world's largest, student-driven business magazine (yeah, seriously). As an Arbitrage Magazine (ARB) staff writer, your position will involve working closely with the various ARB divisions to bring together all elements needed for a successful magazine. While you will be supervised, trained, and mentored by experienced ARB staffers, most work will be done virtually over the course of the year.
In all, the ARB team is looking for staff writers to produce quality articles for the ARB and its website that cover a wide range of topics but with business and student angle to it (even a small one).
The ARB will also provide you with the opportunity to interview business professionals, entrepreneurs, authors, speakers, musicians, and celebrities.
PRIMARY RESPONSIBILITIES
Producing articles based on personal or public interest, or as requested by the ARB editing staff.
Interviewing subject matter experts and high profile individuals (speakers, authors, celebrities, musicians, etc.) to comment on your article's subject matter.
Conducting extensive research to discover topics that are factual and original by using as many resources as possible.
During the final stages of writing, being able to receive constructive feedback and revising work accordingly.
Present edited and polished material for the magazine in the required format.
Creating goals and deadlines for one self to help with organization and accomplishment of work.
WHAT YOU'LL LEARN
By the time you leave the ARB, you'll have gained the following transferable skills that you can use in many other employment settings. Specifically, you'll learn how to:
Secure and conduct interviews with a variety of individuals
Write articles that are of interest to the public and that can turn viral
Research content more effectively to produce more authoritative articles
More effectively manage one's time and workload
Learn how to effectively work in a virtual environment (i.e. the future of work)
BENEFITS
Since the ARB is connected to the Google News network, your articles have the potential to be picked up and exposed to a GLOBAL readership. Depending on the quality and timeliness of your articles, they may also be cited in other major publications; past ARB writers have had their articles cited by the CBC, CNN, and the Huffington Post, to name a few.
All ARB staff members will receive a reference letter after four months of successful service to the publication. You will be able to use the founder as a personal reference after eight months of successful service.
Be provided with a large orientation package and training process that will provide you with the tools to grow professionally.
You'll be able to add by-lines to your portfolio from an established and well-known publication.
You'll be a part of a (really big) team that's doing great work!
ADVANCEMENT OPPORTUNITIES
Those who excel in their roles and show an interest for increased responsibilities will have the opportunity to grow within the ARB (when opportunities become available) to assume the following positions: section editor, online editor, chief interviewer, vice managing editor, managing editor, and editor-in-chief.
REQUIREMENTS
Be an active student (rare exceptions apply)
Ability to work produce quality articles within tight timeframes and simultaneously manage several projects.
Highly organized, committed and with an ability to multi-task and meet deadlines.
Critical and creative thinker able to come up with a number of quality ideas for new articles and how to approach writing them.
A high level of skill using the English language (spelling, punctuation, grammar, rules of composition, etc).
A clear, entertaining and clever style of writing. Specifically, being able to write in ways that are appropriate for the Arbitrage's target audience of university/college educated 20-30 somethings.
Ability to do extensive research by using a variety of sources to obtain information on a selection of topics.
Ability to reason and problem solve.