This winter, keep it stylish
---
It's time to pack away those frumpy sweaters, granny cardigans and slouchy track pajamas that stretch for comfort.This winter, fashion is no longer about thick and fat layering but all about sleek and snug styles.
"I like my money where I can see it….hanging in my closet"
– Sex and the City
First published in The Indian Fusion
Written by Sanskriti Shukla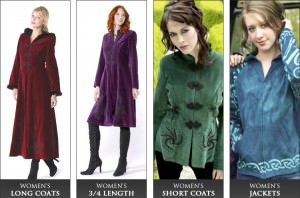 What to wear (for women) –
Leggings – Leggings are fun and they go with different tops. Skinny jeans will do that trick too.
Coats – Let your coat make a statement this season. You would be lost without them. So coats are a must have this season.
Try colors like pink and dirty yellow to add a little light to your outfit.
Tops – Experiment with bright colors as they draw attention to your face. Go for feminine tops and team them up with a belt. They are sexy without revealing too much skin.
Dresses – Dresses have made their way back into the limelight.They're easy on the figure yet classy. Dresses are a good option for formal parties.
Team it up with patterned tights and hose and you're good to go.
What not to wear (for women) –
Hats – A true frenchman might be to able to carry it off but its not for you.
Furry boots – They are ugly. Sure, they were in fashion once but its not the 80′s anymore. And lets face it, furry boots rarely match an outfit.
Multicolored Mittens – Nobody wants to see a huge rainbow wrapped around your tiny neck. Say 'no' to multicolored mittens. Infact say 'no' to anything thats multicolored this season.
What to wear (for men)-
Leather jackets – They are really in and they give your body a good shape. They look dressy.
Sweaters – Bright colors are not just for warmer seasons.Try orange and green, they give a much needed light to your outfit.
A pair of Corduroys – They help you stay warm in cooler weather and add edge to your look. Give your jeans or pants a rest this winter.
What not to wear (for men)-
Puffer jackets – Wearing them does not mean they will keep your body warm because of their thickness. They are simply out of fashion.
Sandals –  Do not wear them in chilly weather. Wearing sandals in winters is peculiar and wearing them with socks doesn't make it alright, so don't.
Military prints – Say 'no' to anything that has military print. They could be boots, boy baggies or T-shirts.
So this winter, stay warm and style to burn.
Happy Holidays 
Courtesy The Indian Fusion 
ARB Team
Arbitrage Magazine
Business News with BITE.
Liked this post? Why not buy the ARB team a beer? Just click an ad or donate below (thank you!)
Liked this article? Hated it? Comment below and share your opinions with other ARB readers!