Cycle and Recycle: The Bixi Method
---
"A Montreal-based company capitalizes from renting bicycles."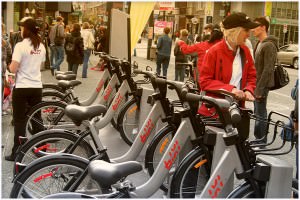 By Jorge Thielen, Staff Writer
It's May and spring is absolutely here; trees sprout with birds that sing to a patient sun. At this time of the year, the city turns greener. People walk the metropolis in comfort. Hormones peak to eye-candy overdoses. The cityscape around us is always in change. Paths and transportation methods adapt likewise. But what I'm really talking about here is the bicycling. The giant iron platforms you see around every corner hold the most revolutionary public transportation system history has ever seen: the public bicycle.
Named the 19th best invention of 2008 by Times Magazine, Bixi is a self-service bicycle-rental system launched in Montreal, Quebec in the spring of 2009. Four months after the introduction of Bixi, CBC News reported how Bixi marked its one-millionth ride. With subscription fees of $5 a day, $40 a month, or $95 a year, you will never take a bike in the metro again (Toronto prices).
Bixi bikes are designed in Quebec, made of 100% recyclable aluminum, and their parking stations run on solar energy. Cycling contributes to cleaner air and has a beneficial impact on your overall health. The Bixi website says how every hour of biking burns 500 – 700 calories and by cycling you take in 40% fewer pollutants than by riding inside a car.
Bixi is currently available in four Canadian cities, London, Melbourne and nine cities in the United States. As a business, Bixi has proved to be a terrific success. The public bike system company predicted a net income of $1.07 billion for the financial year ending January 31, 2011. But to the surprise of the company, the prediction was surpassed by more than 40%. According to the Bixi website, the company achieved net revenue of $1.515 billion.
A notorious addition to Montreal's Bixi bikes is advertisements on the rear wheel of bicycles. Because of the hyper-mobility of bikes, the advertisement campaign will prove to be a very successful strategy. The companies advertised are their sponsors: Telus, Desjardins and Rio Tinto Alcan.
Despite the cleverness of rear-wheel advertisements, the aesthetic appeal of bikes is compromised. Bixi user, Daniel Ophaug says, "Most people won't care about the advertisements, it's still a convenient choice to make. But you never know, there are many self-conscious people out there that could be turned off by the new design."
In fact, a new Facebook group called "Ad Free Bixis" has more than 1,000 members fussing about the addition of advertisements to Bixi bicycles. Another issue advertisements bring is that bikes are now an easier target for graffiti, especially because much of today's graffiti attempts against large corporations.
A public bicycle system, like Bixi, is a great Canadian initiative that benefits the health of users, alleviates traffic, and reduces air pollution. When you ride a public bicycle you get to places faster, you stay fit, and you will never have to worry about getting your bike stolen, a common occurrence in big cities.
By Jorge Armand, Staff Writer
Twitter: Jorge_Thielen
Website: www.theedgeoftheword.blogspot.com
ARB Team
Arbitrage Magazine
Business News with BITE.
Liked this post? Why not buy the ARB team a beer? Just click an ad or donate below (thank you!)
Liked this article? Hated it? Comment below and share your opinions with other ARB readers!