Right Out Loud: The Role of Asians in Canada
---
What's being said about Asians in the media, as well as in one of Canada's most diverse cities
By Adrienne Beason, Staff Writer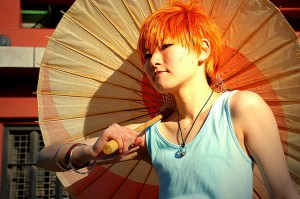 Cynthia Liu grew up in a small village on Vancouver Island, British Columbia and was raised to believe we are all equal, if not the same. While a member of one of the only Asian families in the village, local hatred was well hidden and encountering it never became less of an abrupt slap in the face. As a child, she was oblivious to racism. Yet it was difficult to make friends at her elementary school. The reason now seems simple: Cynthia did not look like the other kids.
Over the years, Cynthia experienced what seems to be a standardized checklist of discrimination: the slanting eyes and the go back to China comments, being called a chink, and the inevitable "cute little Asian girl"/ "me love you long time" pickup attempts.  This being noted, it still seems that overall, her experiences have been few and far between – so much so that she often forgot that people saw her as different.
I find that Asians appearing in pop culture, if featured at all, are regularly made into comedic stereotypes
Later, moving to Vancouver, Cynthia finds she is no longer part of the smallest minority.
"I haven't experienced much racism, especially now, living in Vancouver. However, I do notice that when I go back… I receive many more stares," Cynthia says.
One day at the University of British Columbia, where she studies nutrition, Cynthia passed another student on his cell phone saying, "Was there a lot of chinks there? Oops, I guess I shouldn't be saying that at UBC."
Broad daylight. Outside. Normal speaking voice. No effort made to brush the prejudice under a rug, into a corner, beneath a chair. And it started her thinking: why is this happening? Naturally, the first place to look is at surroundings. Vancouver? British Columbia?
According to Statistics Canada, Vancouver is home to more interracial couples and less residential segregation than Canada's largest metropolises: Toronto and Montreal. In fact, in Vancouver, 47.1% of the population are members of a visible minority. And yet, perhaps lingering traces of BC's dark past can account for how a city as diverse as Vancouver could be home to the comment Cynthia heard on campus.
From the 1850s to the 1950s, British Columbia played host to the most extensive legalized pattern of discrimination towards Asians in Canada and Vancouver even held a series of anti-Asian riots in 1887 and 1907. It was only Canada's signing of the UN Charter in the 1944 and 1948′s Universal Declaration of Human Rights that buttered up the White public. South Asians and Chinese were given the right to vote in 1947 and Japanese, in 1949. That is not a long time ago. And perhaps change cannot come that quickly?
But West Coasters continue to fancy themselves as having a liberal hippy culture – if not enlightened, then at least accepting.
Confused by a place that seems to be moving both backwards and forwards at the same time, Cynthia looks to the media for explanation. And finds nothing but explanation.
Perhaps more prominent than it was even five years ago, racial humour in the media is widespread and addictive. Perhaps tired of mocking Jewish or Black people, the media has made poking fun at Asians an everyday thing, (that is, when there are Asians in the media).
"I find that Asians appearing in pop culture, if featured at all, are regularly made into comedic stereotypes," Cynthia says.
Generally, racial humour is accessible and the stereotypes, which exist for a reason, are relatable.