Revolutionary: A Review of 2011
---
Consolidating the highlight events of the year
By: Andrea Normandeau, Staff Writer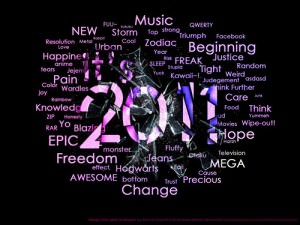 What sparks the action necessary to change the direction of your life and do something you have never done before? What makes a person decide that now is a better time to act than any other? This inspiration – whatever it is – clearly travelled swiftly throughout the world in 2011. It was a year of unity, a year to fight for what you believe in, to help those who faced terrible tragedies, and to come together as a community both locally and globally.
Through the use of technology, the world has become connected like never before. Nowhere was this more apparent than in the beginning of 2011 when the world gained unprecedented access to the uprising known as Arab Spring through the use of social media. The revolution began with the courageous act of rebellion when street vendor Mohamed Bouazizi lit himself on fire in the public square of Tunisia in late 2010. He likely could not have predicted the massive wave of courage and strength rallied by many Arab people as they fought to free themselves of oppressive authoritarian rulers in countries including Egypt, Jordan, and Libya.
On March 11th, a deadly tsunami barreled onto the island of Japan and washed the streets away. Triggered by a massive 8.9 magnitude earthquake, thousands of lives were lost, homes were destroyed, and families were torn apart. But in the aftermath of the destruction, the global community rallied together and tens of millions of dollars were generously donated to assist the tsunami victims in rebuilding their lives.
For every little girl who has ever dreamt of becoming a princess, it was an event not to be missed. On April 29th, an estimated 2 billion people watched the historic wedding of Prince William to long-time girlfriend Kate Middleton. While the spotlight was clearly focused on the royal couple and Kate's coveted dress designed by Sarah Burton of Alexander McQueen, Kate's sister Pippa Middleton held her own as the bridesmaid and became an instant media sensation.
Reports streamed in that in the dawning hours of May 2, Osama Bin Laden was killed in Pakistan by American armed forces. Bin Laden, the mastermind behind the World Trade Centre attacks ten years previous, caused the deaths of over 2000 Americans.
In New York City, at the heart of the financial district, a captivating protest movement made its stand in September and vowed to bring attention to the dramatic financial discrepancies between the richest 1 percent of the population and the other 99 percent. The Occupy movement spread globally, with sit-ins and marches in numerous countries. In recognition of both Occupy Wall Street and the Arab Spring, Time Magazine featured "The Protestor" as person of the year.
On October 5th, Apple's co-founder Steve Jobs, whom many consider to be a revolutionary genius, passed away at the age of 56 from pancreatic cancer. He leaves behind a legacy that continues to inspire many in the industry and all those who use the technology he created to explore their passions, share a piece of themselves, and connect with loved ones.
It was a day of strong emotions when "Supreme Leader" of North Korea, Kim Jong Il was reported to have suffered a heart attack and died on December 17. Many North Korean citizens openly engaged in public displays of sadness and distress over his death, while others around the world rejoiced at the end of the repressive dictator.
It is easy to distance yourself from worldly events and think they are happening around you, instead of with you. But every great movement, every crowd that gathers for a cause, and every single charitable donation stems from the actions of individuals. There is a power that every person holds, and when gathered together to unite in a cause, this power can achieve extraordinary results.
ARB Team
Arbitrage Magazine
Business News with BITE.
Liked this post? Why not buy the ARB team a beer? Just click an ad or donate below (thank you!)
Liked this article? Hated it? Comment below and share your opinions with other ARB readers!