Economic Tides: Africa Rising
---
It seems that Africa's economy is starting to grow: but will this prove fruitful for the population?
By Jordan Smith, staff writer
According to Yun Sun's article China's Increasing Interest in Africa: Benign but Hardly Altruistic, Chinese president Xi Jinping recently committed another $20 billion for development projects in Africa.
"China usually attaches a significant amount of such funding to infrastructure projects, which forms the foundation for Africa's industrialization and economic development" states Yun.
"Anaemic growth in the rich world has made sub-Saharan Africa an attractive destination for money and its managers. Foreign direct investment has increased by about 50% since 2005" according to the The Economist.
[pullquote]Nigeria's Central Bank Governor Lamido Sanusi warns against repeating the costly mistakes of European colonialism[/pullquote]
Although he is not against China's investments in the continent, Nigeria's Central Bank Governor Lamido Sanusi warns against repeating the costly mistakes of European colonialism. His concerns are not so much a warning to foreign investors as they are a call to people in Africa to recognize the pitfalls of such relationships and be proactive in helping themselves assert economic independence.
"Africa must seize the moment. We must encourage a shift from consuming Chinese-made goods to making and consuming our own. We must add value to our own agricultural products" says Sanusi.
In addressing his compatriots Sanusi asserts that "We must blame ourselves for our fuel subsidy scams, for oil theft if in the Niger Delta, for our neglect of agriculture and education, and for our limitless tolerance of incompetence."
"New discoveries of oil, gas, and other minerals in African countries will generate a wave of significant mineral wealth in the region" according to an article published by The World Bank.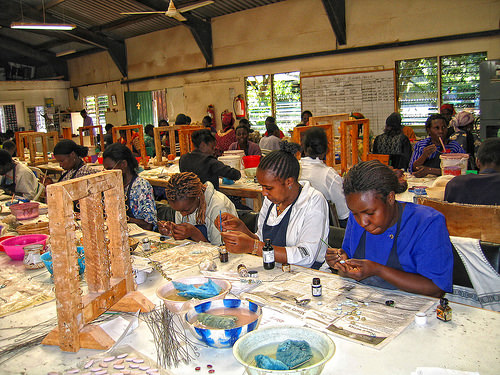 Infrastructure investments are vital to economic progress. Without them the resources that are so abundant (for now) have no way of reaching their respective markets.

In accordance with Sanusi's mantra African nations and their populations must be proactive in their nation's fragile but valuable economies.
During the scramble for Africa in the late nineteenth and early twentieth centuries there was little to no foresight into how the economic practices of European nations would undermine Africa's potential. This proved to be a disastrous mistake with long lasting repercussions for both Europe and Africa.
Now it is up to African leaders and the population to make known that Africa will develop on its own terms, and not fall prey to a second scramble.