Google vs China: The Losers and the Losers
---
Google's Showdown with China Comes to a Head
By Sushil Tailor, Staff Writer
"This was no surprise to Google when they first entered the Chinese search engine market in 2005, and as required by law, Google censored their own search results."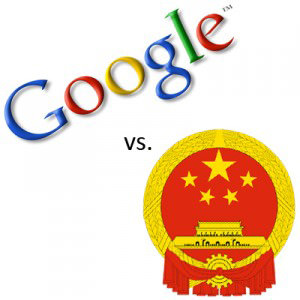 It was 1989 when 10,000 students and intellectuals marched in Tiananmen Square for reform against the Communist Party of China. The protests eventually culminated into the government retaliation of June 4th, when a lone scholar was photographed standing in the way of an enormous government tank. This iconic photo became known to the world as "Tank Man."
Yet despite what had happened, Tank Man is little known about nor seen in China, particularly amongst the young. Such an ironic situation begets the question, "Why?"
The People's Republic of China is known for its censorship regime known as the Golden Shield Project, often snidely referred to by Western nations as The Great Firewall of China. Internet content that is deemed against the favour of the ruling Communist Party is censored. Dissent is also disallowed, resulting in Internet forums being held liable for what their members post.
Thus, Tank Man had been censored and prevented from being seen by Chinese citizens. Today, websites that operate in China or wish to have a presence in China must either comply with censorship regulations, or be censored.
This was no surprise to Google when they first entered the Chinese search engine market in 2005, and as required by law, Google censored their own search results. Known as a proponent of free speech for both ethical and practical reasons, Google faced criticisms from the press and internet users for succumbing to Chinese censorship rules.[pullquote]This was no surprise to Google when they first entered the Chinese search engine market in 2005, and as required by law, Google censored their own search results.[/pullquote]
In 2009, a cyber-attack, dubbed Operation Aurora by security experts at McAfee Labs, took place. It attacked a variety of companies which had a physical presence in China such as Adobe, Apple, Microsoft, and Google. Google alleged that Chinese hackers tapped into the Gmail accounts of Chinese human rights activists and then proceeded to attack their corporate infrastructure.
The combination of this attack and public dissent led Google to strike back and announce that it would stop censoring its search results in China. It then followed through by shutting down its Chinese domain and redirecting users to the unfiltered Hong Kong portal.
In turn, the Communist Party of China accused Google of colluding with US intelligence and a standoff between the two giants ensued. The government began to put companies that had contracts with Google under pressure to break them. They also threatened to not renew Google's internet content provider's license.
Among Chinese citizens, some supported Google, whereas others boycotted the search engine and instead used Baidu, China's dominant search engine.
Google's supporters were largely Chinese academics and the business community, who needed Google's services for work. Google simply provided access to information and research that Baidu did not.
In a survey conducted by the science journal Nature, it was found that 80% of Chinese academics regularly used Google to search for academic papers and that 60% used the site to stay on top of research. Google Docs and Gmail had also been censored, which resulted in plight for small businesses which relied on such free cloud computing and email services.
Who won in the end? Arguably, no one.
For Google, China is a massive market, and by backing out they would lose out on ad revenue. For China, Google pulling out of their market would result in greater cultural isolation, which was not what the government had in mind. Google was a window to the outside world for the Chinese, and despite initially succumbing to Chinese censorship rules, it was still the least restrictive of the search engines available.
In the end, the true losers were not Google or the Chinese government: it was those who rely heavily on a competent search engine for information.
ARB Team
Arbitrage Magazine
Business News with BITE.
Liked this post? Why not buy the ARB team a beer? Just click an ad or donate below (thank you!)
Liked this article? Hated it? Comment below and share your opinions with other ARB readers!