The Anti-patriot: The Norway Massacre
---
A terrifying bloodshed, caused by a single man's twisted ideals.
By Amanda Childs, Staff Writer
"Since the attack, unofficial numbers hover between 76 and 98; 8 people have been confirmed dead from the Oslo bombing."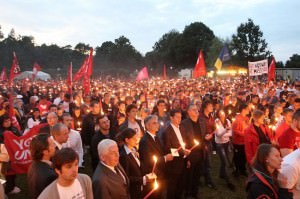 Anders Behring Breivik scarred hundreds of youth, and Oslo residents, on his July 22nd rampage. His own fear of Muslims taking over Europe led him to the massacre. The attack was planned for some months, as the supplies he used were purchased over a span of seven months. There has been speculation that Breivik had also planned to attack the Norwegian Royal Palace as well as the Labor Party's headquarters, but backed out.
Much of what has been learned about Breivik comes from his life online. There are numerous pictures of him posing in military gear, and Masonic clothes. He says he is a member of a group called the Knights Templar. This group is based out of London, England and is a resurrection of the original Knights Templar.
Breivik claims that his association with the group is unrelated to his actions, despite his anti-Islamic motivations. As many know, the original Knights Templar group was founded during the Crusades, a Christian versus Muslim war. The Knights Templar group has denied any connection to Breivik.
Breivik supports the viewpoint of a Europe that has one culture and one God. He sees Muslim immigrants as a threat to his ideal Europe. To him, those that let Muslim immigrants are just as bad, leading him to attack Oslo and Utoeya Island. The youth at Utoeya Island were associated with the Labor Party. The youngest among the youths was Sharidyn Svebakk-Bohn, who was fourteen years old.
[pullquote]Since the attack, unofficial numbers hover between 76 and 98; 8 people have been confirmed dead from the Oslo bombing.[/pullquote]
The Vatican released statements against Breivik's actions. Right wing activists are often associated with Christianity, and Breivik calls himself a Christian in his blog. Breivik's defense lawyer, Gier Lippestad, reveals that Breivik does not understand that the public is repulsed and angry over his rampage.
The Norwegian government also refuses to reveal the death toll at Utoeya, as boats, divers and a mini-submarine are still searching the lake for victims. Since the attack, unofficial numbers hover between 76 and 98; 8 people have been confirmed dead from the Oslo bombing. A memorial service was held in Oslo, with Prime Minister Stoltenberg and his cabinet members attending. A few private funerals have been held throughout Norway for individual victims. The government is funding funeral and legal costs of the victims and survivors.
Breivik's extremism has led to scrutiny towards Norway's right wings supporters, and growing Islamophobia in Europe. According to Thomas Hylland Eriksen, a cultural anthropologist from the University of Oslo, says that Islamophobia is rising in Europe.  Eriksen claims that right wing groups that reflect
Breivik's disposition are a growing concern in Europe. The massacre could be an eye-opener for the public to be more accepting of Muslims, but it could also create hostility. Eriksen says in an interview with The Voice of America that it is too soon to tell which reaction the public will adopt.
Like a deluded patriot, Breivik has confessed to the murders and bombing, but not guilty to the charges of terrorism.
ARB Team
Arbitrage Magazine
Business News with BITE.
Liked this post? Why not buy the ARB team a beer? Just click an ad or donate below (thank you!)
Liked this article? Hated it? Comment below and share your opinions with other ARB readers!