Peru: On the Cusp of Growth or at the precipice of decline?
---
An analysis of the current state of the Nation of Peru
By: Siavosh Moshiri, Staff Writer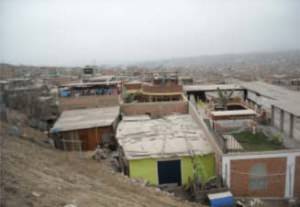 Peru was a country that many economists often saw as a classic example of the inefficiency that dogged the continent of South America. Though blessed with a variety of valuable natural resources, the country (like many neighbours) never managed to use them to its advantage. All the while, corruption and social discontent kept development from gaining any level of momentum.
However, in the past decade the country has witnessed a rise in both its GDP per capita and Human Development index. Concurrently, the newly elected president Ollanta Humala has stated his intentions into resolving the problems that the country still faces such as poverty and discrimination. Many question his credentials however, and expect this recent rise to come to nothing. So the question one must ask, is this the beginning of a new age for a long suffering country or simply a brief flash of false promise?
Since taking over, Humala has been faced with many major problems but one needs his immediate attention: the growing tensions between the investing multinational corporations and the rural people of Peru. 
In the past decade, the country of Peru has seen a large increase in development in both financial and social terms. GDP per capita, which for many years prior hovered around 4000 dollars, shot up – going from 4.4 thousand to around 9750. The human development index also saw a similar increase. Prior to the year 2000, the index for Peru was below many neighbours such as Colombia and Venezuela. Since then the level of social development of the Peruvian people has surpassed the aforementioned along with other countries as well.
In 2010, Peru jumped ahead of Colombia, Brazil and Ecuador and is currently ranked 63rd overall in the world. Most economists attribute this success to former president Alan Garcia's free market based macroeconomic policy that has made Peru an attractive trading partner around the world.
The increased privatisation and lowering of tariffs piqued the interest of important buyers from USA and China. Both countries have an ever increasing demand for natural goods due to their large populations; there is a constant need for the development of houses and the materials that feed such an industry. With Peru having large amounts of wood, copper and other goods, they were and continue to be well positioned to satiate such needs.
Consequently, (due to these new economic alliances) the economy boomed from 2002 to 2009. The GDP growth rate steadily rose from 5 percent to 9 percent. Even during the recent world financial crisis, the rate remained north of 0 at around 0.86 (no small feat considering many other economies failed so badly during the same period). The economy has since recovered and now boasts of better rates in the region (8.2 percent).
Unfortunately, there are still many problems facing Peru that make analysts and policy experts worry. Firstly, income inequality is still an issue across the nation. The growth in GDP has clearly benefited the upper class of society but very little has trickled down to the lower indigenous classes. This problem is evident in the country's Gini index.
A measure used by policy analysts and economists, the index plots out the total level of income (on the y axis) against the distribution of the income (on the x axis). This line is then compared to a 45 degree line (this would represent a case where the country is in a perfectly equitable scenario). This measure ranges from 0 (evenly distributed) to 1 (the opposite). Peru's Gini Index has been for some time hovering around 0.5 – indicating high levels of inequality. The magnitude of this figure only becomes greater when one considers that nearly 45 percent of the population live in poverty, the second issue that the country faces.
Poverty at such a level has many negative consequences — too many to list. Most analysts agree that it has detrimental effects on health, education and the overall GDP growth rate of a nation. Most important of all, poverty is a transgenerational issue; its symptoms do not only affect those presently suffering from it but their offspring's as well.  It is a perpetuating cycle that saps countries of their true potential.
Those closest to the issues are the various NGO's who work with the poverty stricken. J.G. Tarrasenko is the general coordinator of operations for Nexos Voluntarios (an NGO), the southern city of Urubamba. He believes such troubles are especially true for people of indigenous descent. They live in isolated regions and "live as their forefathers have." They are in a very precarious situation as their main source of income is farming, an industry that is susceptible to many external factors. Climate change, along with "poor sanitation and health" has lead to people relying on weaker and smaller crops to sustain them, both financially and nutritionally.
In an interview with Arbitrage, Maricarmen Valdiviesio, the executive director of Nexos, stated that the educational system is "a huge problem." Areas outside of the major cities are so impoverished that most schools are underfunded or have low quality staff.  There has been little progress in the quality of teaching in rural areas and teachers have been very hesitant to change.
Recent attempts at a certification process to rate employee quality was met with scorn from local unions. Valdiviesio also explained "that in good universities, the Faculty of Education is not very attractive." Most Peruvians tend to be attracted to more high paying professions. This leads to a vicious cycle where lesser talented Peruvians take on teaching positions which only continue to degrade an already floundering profession.
As the quality of teaching decreases so does its reputation. A student from such a background often has to move hundreds of miles to urban centres to get a chance to enrol in any institute of quality.  Even if this move were to occur, that student would then come face to face with the third major issue that Peru faces and that is discrimination.
Despite the economic growth, this country is still divided with regards to race. The fundamental logic that rules over all social norms is that people of indigenous descent are seen as backwards, primitive and unable to progress due to their low levels of intelligence. Conversely, white Peruvians are seen as well educated and rich and therefore the natural leaders of society.
From universities to hospitals, mesitzos and Amerindian Peruvians have a much harder time finding work opportunities in workplaces of true stature. Even if one were to become a teacher, they would most likely be forced to find work in the more rural areas of the country as most established private schools rely upon foreign teachers.
As one can see, there are many issues facing the newly elected government of Humala. Championing civil rights of poor and renewed efforts to distribute wealth, his victory was seen as a blessing by some and a signal of coming failure for others. A former general, Humala first distinguished himself by successfully fighting with the Peruvian army to defeat the Shining Path, a far left wing terrorist group responsible for many deaths during the late 80's and early 90's. He came to national prominence by attempting to overthrow former president Alberto Fujimori, who had become a major suspect in corruption and human rights investigations. While unsuccessful, Humala built a reputation from the lower class as a warrior for the impoverished and marginalized. Naturally, he used such rhetoric during his election campaign.
Standing in stark contrast to his right wing opponent Keiko Fujimori (daughter of the deposed president), Humala promised more government control on natural resources, a renewed effort to combat corruption and, most importantly, reforms to the current political structure that specifically target the indigenous and the poor. Keiko offered a more market based campaign, espousing the power of capitalism and trying to appease the populations of Lima and other major cities with state led programs for urban renewal.
The key moment in election came when Mario Vargas Llosa, the famed Peruvian Nobel Laurate, endorsed Humala citing (what he perceived to be) Keiko's authoritative tendencies as the main reason. While Humala enjoyed the support of the rural population, he still lacked any sort of pull with urban demographics. This endorsement helped give an intellectual respectability to a campaign that was previously criticized as simplistic and rooted in the naiveté of the rural population. This propelled Humala to a 51.5 percent victory.
Since taking over, Humala has been faced with many major problems but one needs his immediate attention: the growing tensions between the investing multinational corporations and the rural people of Peru.  As previously mentioned, the country's land is laden with valuable resources. However, the areas where goods like gold and copper are available are often inhabited by indigenous tribes.
These people place tremendous importance on the environment and wildlife for both spiritual and financial reasons. They argue multinationals are guilty of polluting in important streams and cutting down trees with no real strategy for sustainability. To help alleviate such concerns, the Peruvian government passed a bill that required the prior consultation with indigenous peoples about legislation or infrastructure projects that would affect them or their territories.
Proponents see this as a landmark moment, as it will finally give a voice to people who for many decades were unable to make themselves heard during negotiations between executives and politicians. According to the law they now have control over their own development. Valdiviesio, a supporter of this law, still believes that for it to be effective the proper definition of an indigenous group must be created:  "lawyers can easily use … this lack of clarification to use in their own benefit." Tarrasenko echoed such thoughts. He also emphasised the importance of communication: "[For this to be successful] this will require a real effort and a lot of time [communicating] slowly with indigenous communities. It may take a generation before a stable relationship can be formed."
He noted, presently, only two groups, the AIDESEP (the National Organization of the Amazon Indigenous people of Peru) or the National Confederation of Communities Affected by Mining. These are influential and sizeable groups but there are still many people who are not a part of them. "Impetus has to come from within the communities," Tarrasenko explains, "their leaders [have] to try and learn about the law and organise themselves with others and local people who are trustworthy to examine it in detail." He expects that the importance of this law to be communicated effectively will take a "long long time if it is to be done properly."
Critics argue that this ruling will be at best ineffective and at worst economically dangerous. They point out the fact that most members of Peruvian tribes are more comfortable in the language of Quecha (which has been spoken since the days of the Incan empire) and would not understand the entire minutia of the law. Secondly, such laws would make the country less attractive for investors. Most corporations push for as little regulation as possible and such rules go very much against this preference and in a country where the state of the economy is so intertwined with foreign investment, many argue that the rules should be made to be as relaxed as possible.
Already there are talks of how the current administration has scared off potential investors. Patricia Teullet, an economist at Unversidad del Pacfico, was quoted by Bloomberg news as saying that Humala's recent political moves should be of far greater concern than the global economic slowdown. "Companies have also expressed concern that the government may take away mining concessions to appease local communities" she said. "They're sending mixed messages and it's not clear what the state's role in the economy will be."
Such trepidations only increased when in September 28, Humala enacted three new mining laws. In essence, the new laws amount to a tax hike aimed at raising $5.5 billion, money which will be used to fulfill a campaign promise about more spending on public infrastructure. The new administration has made it clear that they will do their best to increase the poor's share in the recent economic boom.
Valdiviesio is supportive of such an attitude but is weary due to past failures. "The government developed this 'Transferencias Monetarias Condicionadas' (Conditioned Money transfer) by which they transferred tax revenue to poor." But due to badly thought out regulations, "women started to get pregnant just to receive money [since] if a woman has a  child it would be easier to receive payment."  Such mistakes need to become a thing of the past if the country is to rise above its current difficulties.
ARB Team
Arbitrage Magazine
Business News with BITE.
Liked this post? Why not buy the ARB team a beer? Just click an ad or donate below (thank you!)
Liked this article? Hated it? Comment below and share your opinions with other ARB readers!