Here's How the Economy is Shaping Up in Trump's First Hundred Days in Office
---
The first one hundred days in office of a new U.S. President holds is important for forming impressions on how you can expect the nation to move forward/backward or stagnate under his administration. All U.S. Presidents that came after Roosevelt have had to prove their mettle in their first 100 days in office because it is traditionally believed that the president's power and influence are at their greatest level during that time.
Trump came into office in a historical electoral victory and more surprising is the fact that Republicans also have a louder voice in Congress at the same time. During the campaign, in the buildup to the elections, Trump's war cry was the need to "Make America Great Again."  This piece seeks to provide insight on how Trump well Trump has succeeded/failed in reviving the economy within his first 100 days in office.
Here's what Trump promised to do in the first 100 days
During the campaign, Trump gave out highly ambitious (ambiguous if you will) plans on what he plans to achieve as POTUS. In an address in Gettysburg, Pennsylvania on October 2016 he highlighted some of his plans. Some of his plans that have a direct influence on the economy include:
*Appointing judges "who will uphold the Constitution" and "defend the Second Amendment"
*Constructing a wall that separates U.S. from Mexico in order "to give unemployed Americans an opportunity to fill good-paying jobs"
*Reviewing trade agreements with other countries in order to get better and fairer deals
*Cracking down on companies and take jobs out of the U.S. to overseas countries
*Tagging China as a currency manipulator
*Reducing regulatory bottlenecks on the economy "that for every one new regulation, two old regulations must be eliminated"
*Repealing and replacing Obamacare
Can Wall Street provide insights into Trump's effect on the economy after 100 days in office?
Trump's 100th day in office is a little over one month away and pundits have started taking stock of his performance in order to provide his a scorecard of how well he has made America great again by April 29.
Starting from the stock market, many Wall Street analysts had expected Trump's surprise victory to unleash a wave of market volatility and uncertainty that would trigger a market crash. Interestingly, Trump's victory has boosted the bullish vibes on Wall Street and major market indexes are on a record-breaking streak as seen in the chart below.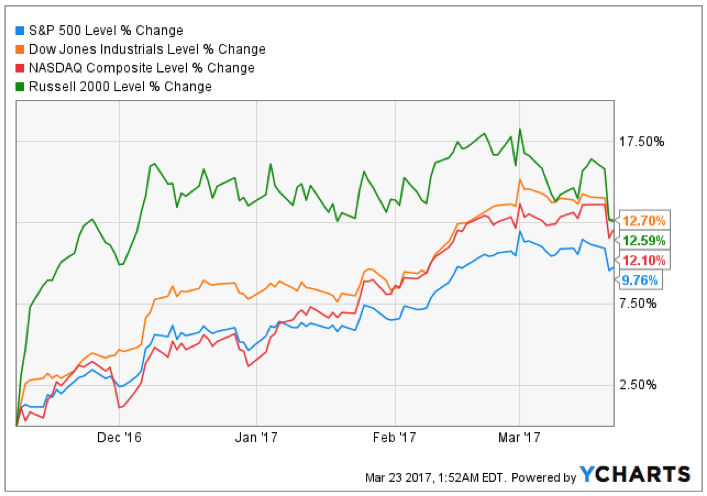 The S&P 500 (representing American's biggest public companies) is up 9.76% since the news of Trump's victory broke. The tech-heavy NASDAQ Composite index has gained an impressive 12.10% and the Dow Jones Industrials is up 12.59%. Small Wall Street investors seem to have the biggest gains as the small cap Russell 2000 boasts a 12.70% gain since the news of Trump's victory broke. Eduardo Ballard, an analyst at 24Option observes that "the bullish vibes on Wall Street indicates that the market knows exactly what to expect under Trump and there's less reason to be worried about uncertainty."
Of course, critics could argue that the performance of stocks is a not an accurate yardstick to measure the success/failure of Trump's first 100 days in office. However, the fact that stocks are actually in an uptrend in sharp contrast to the predictions of gloom and doom suggests the media be missing the point on how Trump could turn the economy around – the same media missed the point on the possibility of Trump's victory. For what it is worth, the VIX index, which measures fear and uncertainty in the S&P 500 is down 31.6% since Trump's victory at the elections.