Osama's Deathblow: How a US Military Op killed Bin Laden
---
"We saw four helicopters at around 2 a.m. We were told to switch off lights of our homes and stay inside," Jaffar Ali, a government employee who lives near the site of the raid.
By Chet Chung (Staff Writer)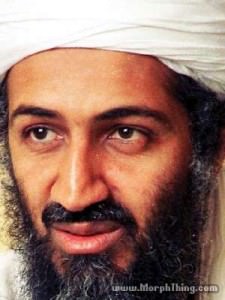 This past Sunday at 11:35 p.m. ET, U.S. President Barack Obama announced to the world that Osama bin Laden, leader of the jihadist organization al-Qaeda and responsible for the horrific events of 9/11, had been killed by the US military. Bin Laden's death establishes a significant milestone in America's War on Terror, begun roughly 10 years ago by President Bush.
"On nights like this one, we can say to those families who have lost loved ones to al-Qaeda's terror: Justice has been done," Obama said in his statement.
Earlier that day, Obama, surrounded by members of the National Security team, had watched from the White House Situation Room as a team of Navy SEALs raided bin Laden's compound in Abbottabad, a suburb of Islamabad in northern Pakistan. The operation had been in the makings shortly after Obama's Presidential Inauguration and began to take shape in August 2010, when U.S. officials were able to track one of bin Laden's couriers back to the compound in Abbottabad. At 8:20 a.m. ET, two days prior to the raid, Obama authorized the operation, codenamed "Geronimo."
At roughly 3:30 p.m. ET on Sunday, a group of SEALs, unofficially known as SEAL Team Six, landed in a modified H-60 Blackhawk helicopter near bin Laden's compound and searched for the al-Qaeda leader. Firefights ensued, culminating in the death of bin Laden, one of his sons, two of his couriers, and one of his wives, who was shot in crossfire.
(Click on the image below to zoom in.)
Bin Laden was not armed during the assault but resisted capture, said White House Press Secretary Jay Carney in a press briefing on Tuesday.
Following the operation, bin Laden's body was transported to Jalalabad, Afghanistan for facial and DNA identification, and subsequently to the aircraft carrier USS Carl Vinson, where he was buried in the North Arabian Sea in accordance with Islamic law.
Local residents noticed the US military helicopters during the operation but were unaware of the assault and its objective.
"We saw four helicopters at around 2 a.m. We were told to switch off lights of our homes and stay inside," Jaffar Ali, a government employee who lives near the site of the raid, told the Daily Telegraph.
According to TechCrunch, Sohaib Athar, a local IT consultant, unknowingly reported the events of the operations live on Twitter, jokingly threatening the helicopters with his "giant swatter." Covering the explosions and fly-bys occurring during the raid with a series of Tweets, Athar eventually concluded with his realization: "Uh oh, now I'm the guy who liveblogged the Osama raid without knowing it."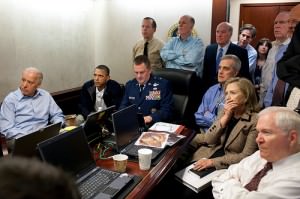 In addition to bin Laden's body, the team of SEALs took with them a collection of computers, hard drives, and electronic devices that were then handed over to CIA operatives to analyze in a secret location in Afghanistan. The materials and data gathered, referred to as "the mother lode of intelligence" by a U.S. official according to Politico, may become useful for future U.S. counterterrorist operations. "It's going to be great even if only 10 per cent of it is actionable," said one official to the newspaper.
Meantime, after debating over the question of releasing photographs of bin Laden slain, the White House, under President Obama's direction, has decided not to make such images public, citing the threat to national security that such a disclosure would pose.
"It is important to make sure that very graphic photos of somebody who was shot in the head are not floating around as an incitement to additional violence or as a propaganda tool," said Obama, in an interview with Steve Kroft on "60 Minutes" that took place on Wednesday.
Speculation and tensions have emerged among senior U.S. officials concerning the Pakistani government's involvement in bin Laden's protection. Pakistani officials have strongly repudiated the claim that Islamabad was sheltering bin Laden, and the Pakistani government has issued a statement declaring that the U.S. raid was "an unauthorized unilateral action," as reported by The New York Times.
In America, news of bin Laden's death has been largely met with great celebration and cheer, as the Huffington Post reported crowds of several thousand Americans congregating on the White House lawn Sunday night following the President's address that evening.
"History smacked me right in the face," Derek Rowland, a visitor to the Washington, D.C. area, said to the Washington Examiner. "It's unbelievable."
Nevertheless, despite the importance of this achievement, the U.S. has yet to declare a sure victory. According to the Daily Telegraph, bin Laden's reign may well be replaced by one of several other senior al-Qaeda leaders equally as dangerous and involved in the organization.
Indeed, President Obama made clear in his statement that the War on Terror is far from over. "The death of bin Laden marks the most significant achievement to date in our nation's effort to defeat al Qaeda. Yet his death does not mark the end of our effort… We must – and we will – remain vigilant at home and abroad."
ARB Team
Arbitrage Magazine
Business News with BITE
Liked this post? Why not buy the ARB team a beer? Just click an ad or donate below (thank you!)
Liked this article? Hated it? Comment below and share your opinions with other ARB readers