2011 ACE National Exposition spotlights a new crop of stars
---
"With confident speech, well tailored suits, and carefully planned PowerPoint presentations, the students butt heads by illustrating the positive effects of their businesses, and the strategies at play."
By Anna Marszalek, Staff Writer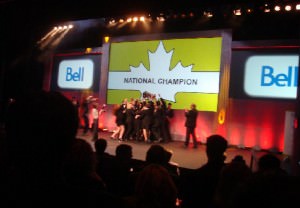 Innovative leaders are not always taken seriously or fairly supported, especially during their early years. At the annual, ACE National Exposition, held this year in downtown Toronto's John Basset Theatre, young entrepreneurs were given the spotlight they deserve, and more importantly, the assurance that they are taking steps in the right direction.
The three day exposition is lead by Advancing Canadian Entrepreneurship (ACE), a national, charitable organization that helps college and university students across Canada build their pioneering business projects. The organization is an opportunity for students to learn leadership skills, and put their textbooks into practice within the real world.
"You only learn by doing in the entrepreneurial world," remarked Rob Henderson, General Manager at Cyberplex Inc. For aspiring students with an eye on this type of career, his advice was simple. "Get involved and start doing something." Whether it's with the help of ACE or organizations like it, "you're going to learn a lot more by getting involved and actually starting a business. "
Once established and realized, the budding future leaders showcase their projects at the ACE National Exposition – competition style. In front of 30 judges made up of Canada's top industry leaders and CEO's, as well as a large audience, students compete against each other for the title of national champion. With confident speech, well tailored suits, and carefully planned PowerPoint presentations, the students butt heads by illustrating the positive effects of their businesses, and the strategies at play. To be sure, the competition is no light-hearted, poster project affair.
[pullquote]With confident speech, well tailored suits, and carefully planned PowerPoint presentations, the students butt heads by illustrating the positive effects of their businesses, and the strategies at play.[/pullquote]
One of the award presenters at this year's event joked about his post-secondary struggle to balance weekly pub nights and school work. To him, and to a lot of us watching, these entrepreneurial students impressed to the last degree, no matter who got the trophy in the end. Not only do they study full-time, they also spearhead thriving, well paid businesses that benefit the economic, social and environmental facets of their communities.
Indeed what all of the ACE projects have in common throughout the years is their commitment to creating meaningful change, accomplished either through the organization's team based program called Students in Free Enterprise (SIFE) or the more individual based one, Student Entrepreneur.
As for who did get the trophy in the end, it was Mike Wahl, Owner of Definitions Wellness Safety Services and PhD student at Memorial University in Newfoundland. Since 2003 the Student Entrepreneur national champion has co-owned and operated the business, devoted to the health and well being of individuals and companies.
Wahl glowed from his achievement and showed pride in his team; they were able to transform a dream into reality and were recognized for it as well. "We help people for a living" he remarked, "we truly help people and we make a business of it." And it's the business aspect that has allowed the company to grow, and with that, bring continuous beneficial change to people who need it.
"We've had stories where individuals couldn't get back to work because they weren't fit enough to pass their training, or had developed a serious disease," he said. However, due to his company's outreach, individuals have been given the gift of health again. "Maybe they don't realize it at the time but we know what we've done for them and that makes us feel good."
Rob Henderson, also a judge at the event, has strong ties with the ACE organization. He was involved in one of its student programs 15 years ago and said that the experience had taught him how to approach his own career. He soon realized, proven also by Wahl and his team, that "If you dream big and think big, you can make it happen."
ARB Team
Arbitrage Magazine
Business News with BITE.
Liked this post? Why not buy the ARB team a beer? Just click an ad or donate below (thank you!)
Liked this article? Hated it? Comment below and share your opinions with other ARB readers!