Remi Boudreau: Bringing Magic to Business
---
"At first, I didn't realize that I was playing the role of an entrepreneur. I was only pursuing my dream of becoming a magician."
Student Spotlight: Remi Boudreau
By Vahida Badat, Section Editor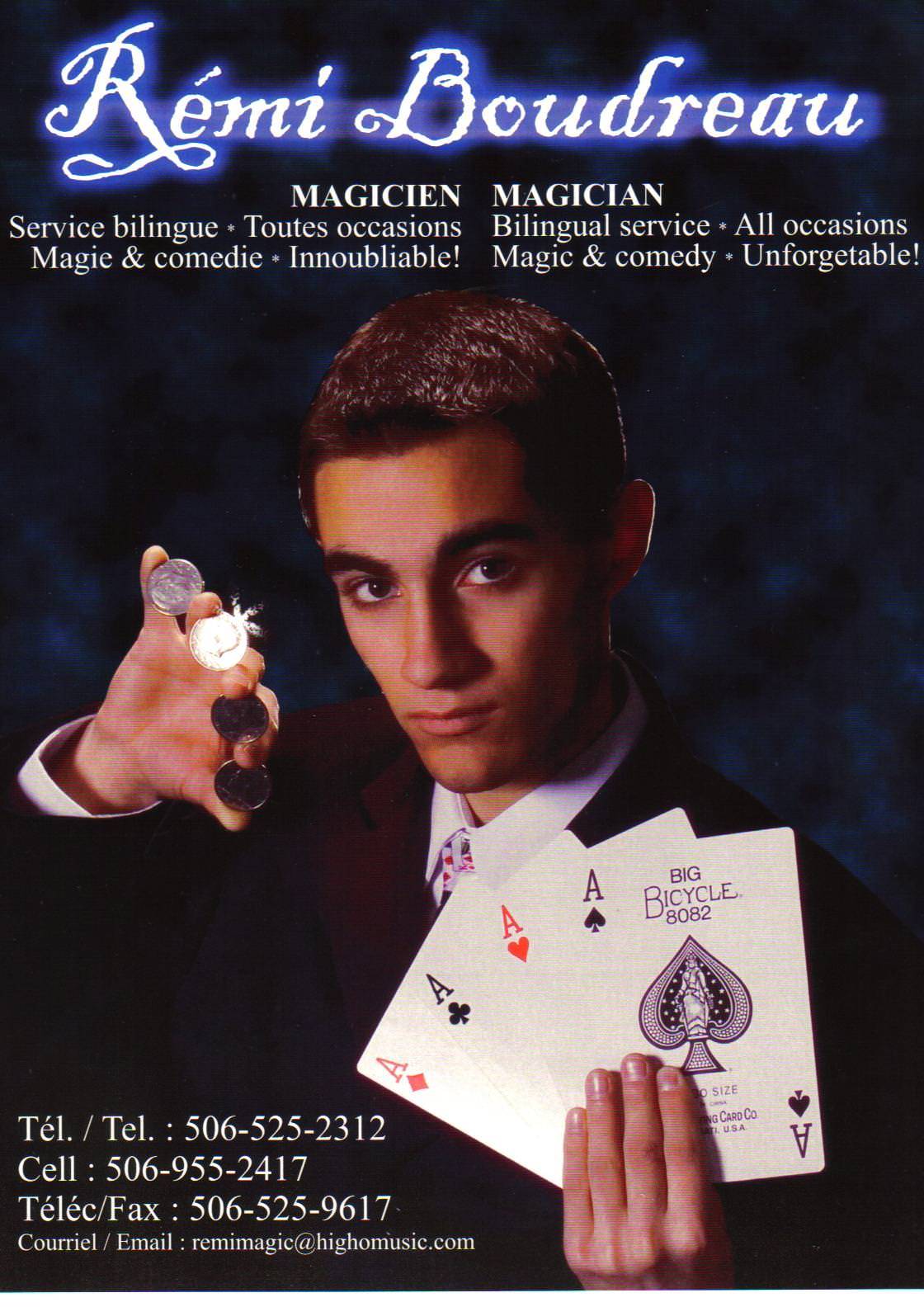 Remi Boudreau of St-Antoine, New Brunswick, does it all. Not only is he a full-time student studying Business Administration at the Université de Moncton, but he's also the proud owner and operator of Remi Boudreau-Magician/Illusionist.
On February 15, 2011, Boudreau was named 2011 Student Entrepreneur New Brunswick Champion by Advancing Canadian Entrepreneurship (ACE). ACE Canada, a charitable organization, along with corporate sponsor CIBC, operates the Student Entrepreneur national competition.
Since the tender age of 10, Boudreau was fascinated with the world of magic, so much so that by just 13 years of age, he decided to pursue his dream of becoming a magician. Since 2002, Boudreau has owned and operated his own business of professional magic shows, offering magic interlaced with humour. He performs at various different events, ranging from birthday parties, corporate events, festivals, casinos and much more.
He aims to establish connections with his audience through modifying his performances to the audience's expectations and draws upon various effects. That said, Boudreau's volunteer performances for the Children's Wish Foundation and Relay for Life are what he has found most rewarding.
"While performing on stage, I could see the smiles on their faces, which made me very happy as well to help out this great cause," explains Boudreau.
For the past three years, Boudreau has been getting as many as one hundred clients per year, and he has been featured on various local television shows for his magic skills. When asked what excited him most about being an entrepreneur, he explained that, "At first, I didn't realize that I was playing the role of an entrepreneur. I was only pursuing my dream of becoming a magician."
Yet, he added that what really excites him as a magician is being able to meet different people and establish connections and relationships with his clients across the Maritimes.
[pullquote]To my knowledge, being a magician is the best job in the world.[/pullquote]
His advice for budding student entrepreneurs is to keep in mind that building your own business is no easy feat. He says, "To perfect your business is very hard, but every mistake you make will be a learning experience that will guide your career to perfection."
Boudreau claims that it is an honour for him to take part in the national ACE competition, and will remember it for the rest of his career. From here, the 21 year old magician will move on to represent New Brunswick in the regional round of the competition at the 2011 ACE Regional Exposition in Halifax on March 11.
Regional Champions will receive a $1,000 cash prize and will then move on to the final round of the competition, which will award a $10,000 cash prize to the National Champion.
For the future, Boudreau dreams big. He hopes to be able to perform on a cruise ship, tour across Canada, and perform in Las Vegas someday. "To my knowledge, being a magician is the best job in the world."
In the end, his biggest dream has already come true.
ARB Team
Arbitrage Magazine
Business News with BITE.
Liked this post? Why not buy the ARB team a beer? Just click an ad or donate below (thank you!)
Liked this article? Hated it? Comment below and share your opinions with other ARB readers!