Career Planner: Wealth Management
---
By Nicki Mossavarrahmani, Staff Writer  and David Alexander, Owner/CEO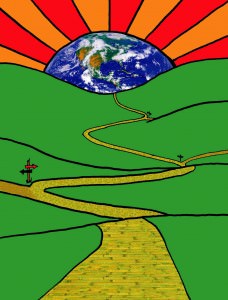 We all want success, to graduate from school with our options unhindered by obstacles, big or small.  And for those interested in pursuing a career in finance, the potential for that success can be mind-boggling.  We've all read stories of those big names, those market tycoons we all hope to follow, with their seven-figure plus salaries, generous stock options, private jets and exclusive parties.
These things and more are all possible to you.  But on this winding, yellow brick road of life, there are many forks in the road—choices that if made poorly, may pull you away from your ultimate goals.  To protect yourself, to ensure that the choices you make are the right ones for you and your dreams, we at the NFSA Arbitrage have developed the NFSA Career Planner.
In this second edition, we will outline what the financial industry is, but this time, the particular field we will be focusing on is: Wealth Management.  Over the next several pages, we will briefly explain the field of wealth management, some of the top jobs within it, the specific designations and education one would need to pursue a career in this field, the key skills and attributes need, salary ranges for each main job and the key duties/responsibilities one would expect to carry out in this field.
In all, it is our hope that by reviewing the information inside this NFSA Career Planner, planning out your financial career will become that much easier, helping you to make the right turns along life's yellow brick road until you reach the point where the world will become yours for the taking … .
[NOTE: Following this edition of the Arbitrage, all further Career Planners will be released separately from the Arbitrage between each issue.  This is in line with the Arbitrage's future growth strategy.]
What is Wealth Management?
[The following description of Wealth Management was sourced from WiseGeek.com]
"Wealth management is a financial service concept that emerged as a specific offering during the decade of the 1990's. Generally, firms that offer a wealth management package provide a wide range of financial services to their clients that will include such basic elements as estate planning, asset management, and even private banking options. The use of a wealth management service can be helpful when an individual has amassed a large amount of assets and needs assistance in managing all of them effectively.
"In the best examples of wealth management, the client will be able to take advantage of a wide range of services that can include the management of everything from the mundane daily task of balancing the (chequebook) to long range planning for a trust or estate. One of the more popular aspects of a wealth management package is managing investments and managing the tax planning that is associated with the task. The financial service can also be helpful for people who are just beginning to amass a large number of assets, and would rather spend time dealing with other issues than managing finances.
"Because wealth management is a form of private banking services, persons wishing to enter the field usually prepare by obtaining educational credentials that are directly connected to financial disciplines. A wide range of professionals may be involved in the extension of wealth management services. Attorneys, certified public accountants, insurance professionals and brokers may all be involved in providing services to wealth management clients. In recent years, accredited courses and seminars on wealth management have become more common as the demand for this type of service has increased.
"The services included with a wealth management package will often include management of the investment portfolio, with brokers empowered to buy and sell on behalf of the client. Attorneys will help to structure family corporations, trusts, and other components that can make estate planning more complete. When it comes to taxes, a wealth management service will also prepare all reports and returns, offer advice to the client on tax elements involved with various aspects of the estate, and in general provide advice that is in the best interests of the client."
Show more