Paul Levy: Leadership Lessons from the Soccer Field
---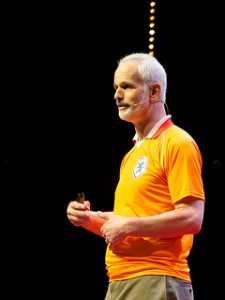 Paul Levy offers leadership lessons from the Soccer Field, including insights on how sports, health care, business and the government help leaders get better outcomes. As a practical guide to improved leadership, Paul Levy`s book highlights unconventional thinking and actions that can be used to bring about outstanding results.
Paul Levy is the former President and CEO of Beth Israel Deaconess Medical Center (BIDMC) in Boston, and is a resident of Newton, Massachusetts. He assumed the position as President and CEO of BIDMC in 2002.
Levy was previously Executive Director of the Massachusetts Water Resources Authority, where he was famous for leading the ""Boston Harbor Cleanup"". He published a description of conditions that led to sewage treatment facilities failures he dubbed as the Nut Island effect in 2001. He also served as Chairman of the Massachusetts Department of Public Utilities and Executive Dean for Administration of Harvard Medical School.
Image provided by The Future of Health