The Dark Side of Chocolate
---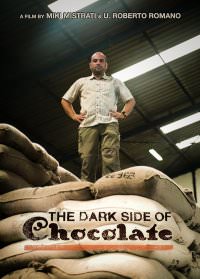 Nestle among the world's top 12 chocolate companies holds the most plantations in Africa, and is accused of covering up the trafficking of children in the Ivory Coast. The Ivory Coast in Africa is the largest cocoa producer that supplies many of these chocolate brands in Europe.
Miki Mistrati, a journalist goes deep into the plantations of coco beans to capture secret footage of the children who work there. After gathering evidence, he contacts Interpol to see how the situation is handled, and unfortunately the traffickers hide the children, so it is hard to prove when trafficking is taking place.
Mistrati refuses to give up and goes in search of the exact roads, the buses, the border, and the plantations of where trafficking takes place. He interviews some traffickers who make 250 euros for each child they bring into the plantation. The cocoa beans are gathered by children in the plantations, sent to the factory, and shipped to the industry.
After obtaining evidence from his secret footage, he requests a meeting with the owners of the factory. He first gives the owner a test on whether child trafficking exists in the Ivory Coast, since all European Chocolate Industries (Nestle, Mars, and Barry Callebaut) for total eradication of child labour in the cocoa sector.
The owner of the factory, of course, lies about the existence of illegal activity, and when confronted with the evidence, immediately complies saying "it's everywhere, and it's always in the news, but the police are trying to stop it." Mistrati asked the owner why he lied the first time, but the owner refused to comment.
Visiting the largest Nestle branch in Switzerland, Mistrati seeks an audience from company employers to discuss the evidence he has gathered, but no meeting was approved. The journalist sets up a big screen in the drive way of the company, and plays the video of the tortured children in the plantations of Nestle and other chocolate companies, but the passersby ignore it, and soon the police are called upon Nestle to shut it down.
Refuting such evidence brings on a very negative image of how chocolate is processed. The companies acknowledging such activity but refusing to shut down those plantations to put an end to child trafficking, is very upsetting. To keep their customers safe from such a negative image, illegal trafficking is kept in secret in order to keep the sales of chocolate running, in which cases children either get paid 1 euro for 40 chocolate bars sold, or none at all.
Image provided by: The Dark Side of Chocolate
Sourced: MsKandyrose
Curated: @KatherineNader, an online editor at Arbitrage Magazine, and the author of The Deadly Mark. She is a student of Biology, English, and Professional Writing at the University of Toronto.