Do I Need to be a Graduate or Not?
---
An Initial Hiccup
First published in The Indian Fusion
Written by Disha Virk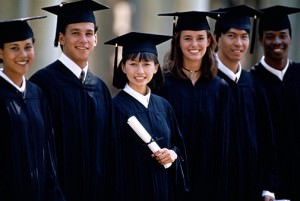 Starting a business is one of the most exciting things one can experience in life. It is also one of the best and most important decisions one can ever make. We know that an employee earns a certain amount of salary and many a times, it's not enough especially in the hour of urgent need. Therefore, a stable and developed business is an answer to this.
But before starting any venture, it's very obvious to be pestered by some very mind-boggling questions – "Should I or should I not?", "How would I protect and manage all my assets?", "Am I that capable to handle all this ?", "How shall I market my business in the present era of social networking ?" etc. and what not !
Following similar lines is this query, which is bound to strike any budding entrepreneur's mind – "I'm currently studying in college and I know that I want to be an entrepreneur. However, I'm not sure what I want to do exactly as of now while I'm wasting my time seeking a degree that I ultimately don't need. Do I really need a college degree to start my own business?"
[pullquote]There are several entrepreneurs, who are college drop-outs and now wish they weren't ![/pullquote] Putting the answer to this in Mr. Tim Berry's words, who's the president of Palo Alto Software Inc., which produces the leading business planning software, Business Plan Pro, as well as other popular planning applications for businesses – "A number of people might argue that college education isn't necessary, but I think it is important to get a college degree before becoming an entrepreneur. The education you receive may or may not help you with the specifics of your business, that's a secondary issue but it surely can help you to think more clearly and practically, communicate flawlessly, learn eagerly and listen patiently. These all are some of the most significant aspects of an entrepreneur…"
It's indeed very true, the years one spends in college hones ones personality as well as individuality. A college degree is also useful for establishing oneself and ones credentials in the eyes of outsiders. For instance, if you ever want to get investment money or a loan, a number of financial institutions think of an undergraduate degree as a sort of filter, like a union card. If you don't have one, you might need to prove yourself in other ways.
By the way, there are several entrepreneurs, who are college drop-outs and now wish they weren't!


However, if one is  in a position of extreme hardship, in which one can't continue with ones education for reasons beyond control then it's entirely a different issue altogether. But furthermore, if one can complete college education at a later time, it's always worth going for.
Education is about us, in most cases, not just about our marks or grades. We must take advantage of the golden opportunity, we're availed to…we'll definitely won't regret it doing!
Courtesy The Indian Fusion
ARB Team
Arbitrage Magazine
Business News with BITE.
Liked this post? Why not buy the ARB team a beer? Just click an ad or donate below (thank you!)
Liked this article? Hated it? Comment below and share your opinions with other ARB readers!