Introducing ShoreUp: The New Way to Find Hot Local Spots
---
Stay Tuned for ShoreUp
Written by Luis Fernando Arce, Chief Interviewer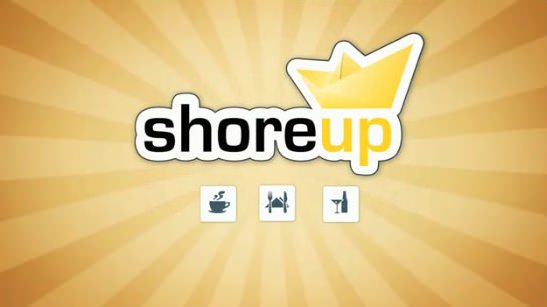 Finding a hot local spot in Toronto where you can kick back and have a beer, or perhaps a coffee, is going to be a lot easier come April 28, 2012. And it's all thanks to Matthew Woo's and David Zhang's creation: ShoreUp.
ShoreUp is a new mobile-device app which will be free to download, and will allow users to enjoy a plethora of rewards and advantages that, according to its founders, you cannot get with any other app.
The concept is easy: you go into any local shop, you check-in using the App, and then you use it to recommend the place to a bunch of your friends. Right away they will get a notification telling them that you think that they would like the place, be it a restaurant, coffee-shop or bar. And you're done.
Next time your friends to whom you recommended the place visit it, they will check-in and you will automatically receive reward coins, which become redeemable for coupons offering different goodies like free coffees, drinks, etc. And your friends will receive coins for purchasing something, and as they recommend it to more of their friends, the cycle will continue to perpetuate itself.
[pullquote]You will automatically receive reward coins, which become redeemable for coupons offering different goodies like free coffees, drinks, etc[/pullquote]Their faith on ShoreUp surges from many places, ranging from the team's dedication to their extensive research, which includes a study by the Harvard Business Review that proves that people are statistically more likely to recommend and return to places that have been recommended to them by others. This is especially true of younger age groups, particularly those between 24 – 35 years of age. They are sure that our constant need to gossip and tell each other of the best places in town are all that's needed to make this a success.
Where they are also extremely innovative is in looking out after not only the consumers – us – but also the suppliers which, of course, are the businesses. The idea is to reward the customer by rewarding the business.
They are partnering up with a with a bunch of local Toronto shops, which as mentioned above include everything from chilled coffee shops and cozy bars to cool lounges and hot dining spots. ShoreUp will increase the clientele base in each place that partners up with them, who in turn will show their gratitude by providing us with goodies!


April 28, 2012 is the Launch Party date, and it will be held at the Canadian Undergraduate Technology Conference – an association that's been around for over 13 years. Their product will be showcased and officially released onto the market at that time.
Background Information on ShoreUp's Innovators:
Matthew Woo is a recent Honours Business Administration graduate of The University of Western Ontario. He's currently also enrolled at the Richard Ivey School of Business, expecting a B.A. by 2012 and working as a researcher.
David Zhang holds a Bachelor of Commerce, Finance and Economics acquired at The University of Toronto, Rotman School of Management. He is also presently enrolled at The University of Western Ontario, Richard Ivey School of Business, where he plans to get his HBA by 2012.
ARB Team
Arbitrage Magazine
Business News with BITE.
Liked this post? Why not buy the ARB team a beer? Just click an ad or donate below (thank you!)
Liked this article? Hated it? Comment below and share your opinions with other ARB readers!