CETA: Is this Agreement Right for Canada?
---
"Considering the impact this agreement will have on public policy … public debate is warranted.  Yet both the media and our elected officials have reported little of these talks thus far"
By Rabeea Wajeeha, Contributor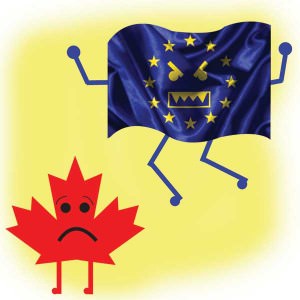 On May 6, 2009, negotiations for the Canada-European Union Comprehensive Economic and Trade Agreement (CETA) were launched.  The trade talks have progressed very rapidly and quietly until recently.  Thus far, two official rounds of negotiations have been completed (in October 2009 and January 2010), while the aim is to close negations by 2011.
Considering the impact this agreement will have on public policy in Canada and the broad scope of this agreement, many feel that considerable public debate is warranted.  Yet both the media and our elected officials have reported little of these talks thus far.
For the first time ever, provincial governments are invited to directly participate in the negotiations.  Meanwhile, the agreement will cover such topics as greater protection for foreign investors, competition policy, simplifying or removing regulatory barriers to imported goods, reduction of tariffs, regulatory cooperation, government procurement, opportunities for cross-border sales of services and sustainable development.
This agreement is said to be more ambitious than WTO and NAFTA and will protect corporate activities from government control.  Proponents of this agreement, seek to promote cooperation on key regulatory, labour and environmental topics, along with removal of trade barriers.  This would open up a highly attractive multi-trillion dollar foreign market for businesses.  In fact, CETA would decrease Canada's dependence on the US and proposes to provide Canada with an excellent opportunity to develop and diversify trade with the European Union.
However, the lack of transparency around these talks is preventing meaningful public debate on this agreement.
A draft consolidated text was leaked by the Trade Justice Network (a group of social justice, labour, environmental and other civil society organizations), on April 19, 2010, in the hopes of sparking a much need public debate about the effects this agreement would have on various public policy areas.  Members of this organization suggest that, "The Canada-E.U.  (CETA) negotiations are based on commitments to place corporate rights before social and economic justice, democratic control, and ecological sustainability."
The government procurement market has been one of the EU's top priorities in these negotiations.  This is a major cause for concern as the biggest purchasers of goods and services are mainly provincial and municipal governments that use tax dollars for economic and social development.  This agreement would take away their power by opening public service contracts to international competition.
A study by Scott Sinclair, senior research fellow at the Canadian Centre for Policy Alternatives, outlines how the European Union is taking advantage of Canada's weaker bargaining position in these negotiations.
"These talks are really about the role of government and driving domestic restructuring as we are the weaker party in this negotiation," Scott Sinclair explains, on April 19, 2010, at the press conference held by the Trade Justice Network.  He concludes that European companies are seeking unconditional access to provincial and municipal procurement markets.
CETA will have a sizeable impact on Canadian culture and social structure, as this agreement is also looking for increased foreign ownership and control of our telecommunications sector, which would have a lasting impact on the Canadian intellectual property legislation.  Other proposals include changes to the public services and social procurement, food sovereignty, manufacturing industry, public postal services and numerous other public sectors.
It's clear why the European Union is pursuing this agreement; it currently has a trade deficit with the rest of the world and is aggressively seeking open foreign markets.  Accordingly, this agreement will help set the terms of global trade in its favour, but is it at Canada's expense?
By Rabeea Wajeeha, Contributor
In association with:
The ARB Team
Arbitrage Magazine
Business News with BITE
Liked this post? Why not buy the ARB team a beer?
Just click an ad or donate below (thank you!)