GEIC Conference Offers Solutions for Toronto
---
The first annual Global Engineering Innovation Challenge questions and suggests solutions to Toronto's infrastructure problems
By Ani Hajderaj, Staff Writer
The Global Engineering Innovation Challenge (GEIC) took place last month at Victoria College in the University of Toronto Saint George campus. It was the inaugural event of what will be an annual initiative that encourages engineers to think outside the box and come up with practical solutions for everyday problems. Leading professionals and thinkers shared their views on Toronto's public transit system, how engineering intersects with business and politics, and how the need for increased funding addresses population density problems.
Toronto always encounters issues with public transit; whether they're infrequent busses, constant repairs, slow service or implementing new ideas. Public transit was a hot topic at this first edition of GEIC, and urban planner professor Paul J. Bedford had a lot to say about public transit and the way politicians are approaching the topic.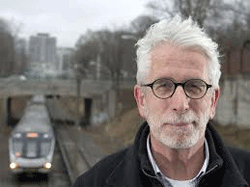 "All you can do as a planner is provide people with choices and options," Bedford said. "People need to understand when they make certain choices they also come with consequences. You can't have it both ways. You can't expect to live in the suburbs, have no transit, expect no road congestion and have somebody build a subway to your door. It's not realistic."
Bedford believes that urban areas should intensify and use existing services to their fullest potential. He also believes those who work in downtown Toronto should move closer instead of commuting from out of town every day, thereby cutting traffic congestion.
"If you're prepared to move to Coburg, a small town, you will have to endure that two hours or more of commute time every day and not have a life as we know it," Bedford commented.
Bedford suggests that one way public transit in Toronto can generate more funding is by introducing small taxes on various transit services. He proposes raising the parking fare by $1, adding 1 percent to the regional sales tax, and having operational grants from the government. He estimates that his suggestions, if implemented, could raise about $1 billion of revenue.
"Scarborough wants more transit, no question about it and they should have better transit," Bedform remarks. "You just can't have the same land use development expectations then expect transit to come to you without intensifying and having more density to make transit viable."
Due to increasing population density throughout Toronto, Bedford believes transit will become much more necessary. "Scarborough is a huge place. The only thing you can do is plan the land use policy to concentrate development on the Eglinton cross-town and other key areas where there is transit, or proposed transit systems. Place more development on the main streets and that over time will make it more viable to have decent transit," he explains.
Bedford is frustrated with politicians who don't invest in public transit as much as they should. For example, the streetcars in downtown Toronto carry more people than all of Go Transit combined, yet Mayor Rob Ford says he wants to remove streetcar service.
"The government has to educate people a hell of a lot better about their real costs and the real choices. People don't have all the information they need to make intelligent decisions," Bedford says. "Many politicians promise unrealistic things like you can get a subway for free."
One of the main organizers of the GEIC symposium, Joseph Yang, is a volunteer for Engineers Without Borders, and he wants to focus the GEIC conferences on solving problems that directly affect society.
"We started this program thinking about what kind of interesting things we can talk about.