Generation Y? More like Generation Dropout!
---
An in-depth look at today's education trends in developed nations and an analysis of why Millennials are entering the labour market less educated than their predecessors
By: Michelle Monteiro, Staff Writer
It doesn't matter that she isn't a certified teacher yet, Salma Faress is a teacher nonetheless, it just happens to be at a Summer Camp.
Faress, 20, a fourth year student in the Psychology Stream of the Concurrent Education program at the University of Toronto, Mississauga campus, is one of the many in her generation, also known as Generation Y or the Millennial Generation (whatever floats your boat), who are joining the workforce less educated than those leaving it.
This phenomenon is unique in developed countries, especially in the United States, which is the only country listed in the Organisation for Economic Co-operation and Development (OECD), a forum committed to seeking answers to common problems, that is below the OECD average.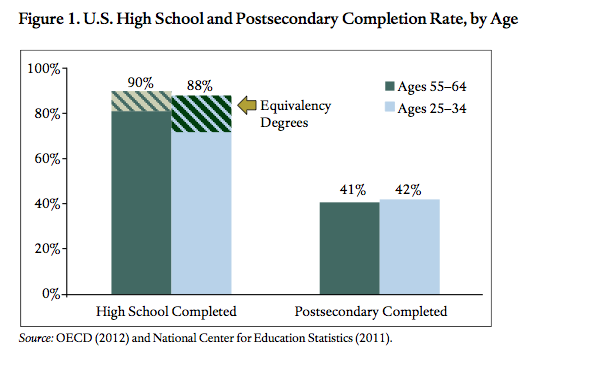 The American education system has slipped over the past few decades, no longer being as internationally competitive as it used to be, according to a new June report from the Council on Foreign Relations' Renewing America initiative. For fifty-five to sixty-four year olds, the United States has the highest percentage of high school graduates and the third largest of college graduates. But the percentage of people aged twenty-five to thirty-four in the country is tenth and thirteenth respectively.
"It's ironic," Faress noted upon coming across the trend. "There are so many privileges here that others anywhere else cannot even begin to imagine, and yet, those who do live here don't take what's offered to them."
What about Canada?
Canada has fared well in comparison to the United States. The percentage of individuals with high school diplomas aged forty-five to sixty-four is slightly higher than the Millennials. Other than that, the rates of post-secondary completion trail very close behind the rates of their successors. If countries were ranked on the share of people aged twenty-five to thirty-four years, Canada would jump from second to first, while the United States would drop from the highest rank.
The Great White North has the highest rate of college completion, consistently performing at the top level, topping competitor countries by more than ten percentage points. Since 1998, the country has increased its performance on university completion, edging closer to its higher-ranking peers, but it is unlikely that Canada will top the current leaders anytime soon.
For the most part, however, rates on secondary and post-secondary completion have been stagnant.