Obama Nominates Secretary of Defense and CIA Director
---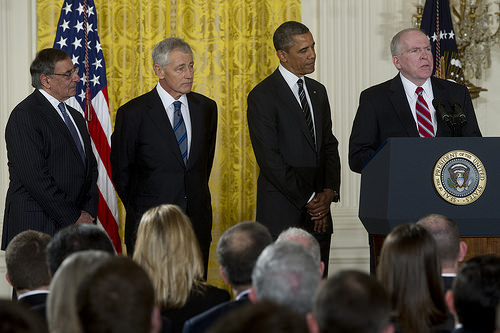 President Obama promotes Chuck Hagel for secretary of defense, and John Brennan for director of Central Intelligence Agency.
"Chuck Hagel is the leader that our troops deserve" Obama explains. Hagel enlisted in the army to fight in Vietnam at a young age. He fought alongside his brother, both saving each other's life many times during the war, and became a sergeant. "He is the first person of enlisted rank to serve as secretary of defense."
John Brennan claims he got his experience required for his profession from living in New Jersey. He is very knowledgeable and has many perspectives on cultures, analytic insights, the history, politics and economics that drove operations, and a range of investments in military decisions to remove war Al Qaeda leaders from the battlefield.
Image: Secretary of Defense
Sourced: TheNewYorkTimes
Curated: @KatherineNader, an online editor at Arbitrage Magazine, and the author of The Deadly Mark. She is a student of Biology, English, and Professional Writing at the University of Toronto.