EU backpedals on biofuel
---
Coming votes could cap the heavily subsidized industry
By: Sarah Hartwick, Staff Writer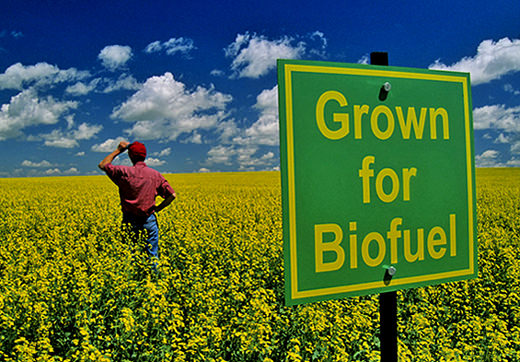 The European Union could be reversing its position on plant-based biofuels in the coming months despite having spent billions subsidising the growing industry.
Although the proposal to cap production of biofuel and biodiesel, which is made from soy, vegetable oils, and other organic material, has gained support in many areas of Europe, European news sources suggest there has been resistance from the region's powerful farm lobby.
A study published in 2008 in the journal Science shows that although the EU has embraced biofuel as a greener alternative to fossil fuels since 2003, initial calculations didn't account for the fact that growing fuel crops would displace the traditional food crops. Forests and wetlands have been cleared as new agricultural land to make up the difference, releasing carbon into the atmosphere and eliminating natural carbon sinks.
This effect – dubbed Indirect Land Use Change – might be negating the advantage of using biofuels at all. In fact, when the carbon cost of shifting agriculture to new land is considered, the research behind the report shows that biofuels can cause more emissions than ethanol and sometimes more than fossil fuels.
After five years, this research might finally have an influence on Europe's fuel policy. This spring, the European Commission, the portion of the European Parliament that proposes laws, recommended that biofuels be limited to a cap of 5% of transport fuels. This would be a drastic shift from a mandated minimum target of 10% in the current legislature, created as part of a push towards 20% lower carbon emissions by the year 2020.
On June 20, Europe's energy committee voted instead to recommend a 6.5% cap, allowing for some growth within the biofuel industry. On July 10, the environment committee will vote on the same subject. In September, the main body of the European Parliament will vote, taking their lead from the votes of the preceding committees.
[pullquote]In a press release, the energy committee said that the proposal would "stimulate the development of alternative, so-called second generation biofuels from non-food feedstock, like waste or straw, which emit substantially less greenhouse gases than fossil fuels and do not directly interfere with global food production."[/pullquote]
Since deciding to pursue biofuels, says a new report from the International Institute of Sustainable Development, the industry has required massive support in the form of subsidies. In 2011, the Institute says, Europe poured in roughly €10 billion. If the current 10% mandate remains, the study says that costs per year could rise even higher by 2020.
Rather than looking to biodiesel for an alternative to fossil fuels, North America has largely chosen to support ethanol, which is corn-based.
Although ethanol production has recently come under fire as a major pollutant and a contributor to the 'dead zone' in the Gulf of Mexico, most gasoline in the United States is mixed as a 10% ethanol blend. In Canada, gasoline is required to be an average blend of 5% renewable fuel.
Sarah Hartwick is a freelance writer and an avid traveler. In her spare time, she works with Schools Building Schools, a growing NGO that's striving to spread access to education throughout Sub-Saharan Africa. Check out her blog to follow her adventures around the globe.
Sources:
Photo Courtesy of Nature.com
Photo Courtesy of China.org.cn
Use of U.S. Croplands for Biofuels Increases Greenhouse Gases Through Emissions – Land-Use Change from Science (2008)
Biofuels, at What Cost? – The International Institute of Sustainable Development (2013)
Gulf of Mexico's Extinction by Ethanol – Bloomberg.com (2013)
Biofuel Debate Heats Up Ahead of Committee Votes – Europeanvoices.com (2013)
EU Votes on Crucial Cap on Biofuels Made from Food Crops – Global Development (2013)
EU Debates U-turn on Biofuels Policy – Nature.com